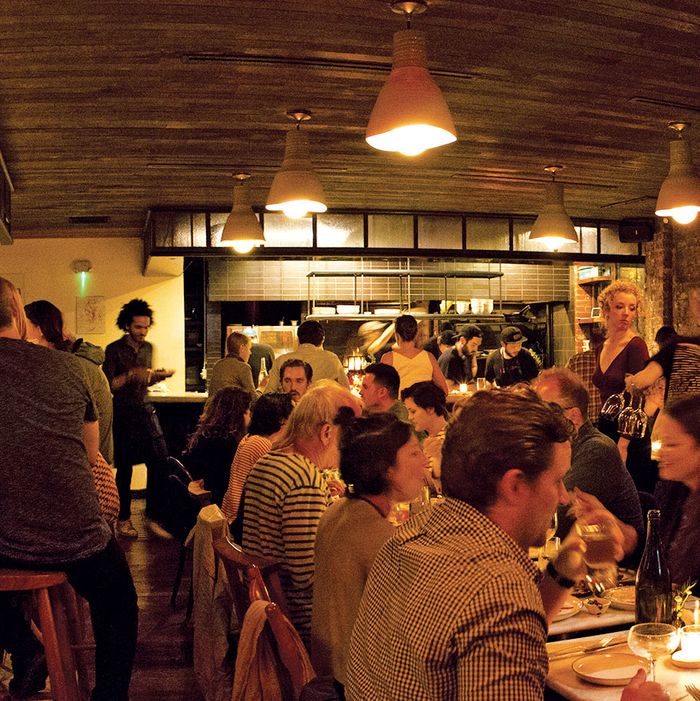 Head to Mettā for a casual holiday.
Photo: Jemma Hinkly/New York Magazine
Turkey time is approaching. Yes, you can cook at home — traditional, wholesome — but the best part of living in New York City is that there are plenty of places to go out for a meal, or even just to pick up some sides. Top restaurants and markets are roasting turkeys, mashing potatoes, baking pies, and doing everything else necessary for a great holiday meal. Here's where you'll want to head this Thanksgiving.
If you just want to go to a neighborhood spot.
If you're tired of the same old turkey.
If you want a blowout, fancy meal.
If you want something traditional.
If you have to feed a vegetarian.
If you're in charge of the pies.
If you're eating in, but don't actually want to cook.
If you just want to go to a neighborhood spot.
Celestine
How Much: $75 for a three-course prix fixe, $45 for children under 12
Looking for waterfront views with your sweet-potato-and-marshmallow casserole? The new Dumbo spot will serve potted foie gras with toasted challah, roasted turkey with sage gravy, a duo of Colorado lamb with sugar-plum purée, sides like that yam casserole you've been craving, and desserts, including chocolate-challah bread pudding.
Greenwich Grille
How Much: $45 to $48, à la carte
Keep it low-key at Harold Moore's new restaurant, where along with the regular menu, he'll serve three Thanksgiving meals: turkey with gravy and mashed potatoes ($45), ham with sweet-potato casserole ($45), or a combination of both ($48). Each comes with stuffing, cranberry sauce, green-bean casserole, and Brussels sprouts, and there will be pies.
Joseph Leonard
How Much: $65 for a three-course prix fixe
Stick to the classics at this West Village spot, where you'll find pumpkin soup with toasted pepitas, roast turkey with traditional gravy, rye stuffing with caramelized onion and Gruyère, bourbon sweet-potato purée, and more.
Houseman
How Much: $85 for a four-course family-style meal, $65 for wine pairing
At the neighborhood restaurant in Tribeca, you'll eat confit turkey legs with walnut-date sauce, long-grain rice with collard greens, and bourbon-boiled peanuts, kabocha squash with amba yogurt, and apple and parsnip pie.
If you're tired of the same old turkey.
Claudette
How Much: $75 for a three-course prix fixe
Dinner at the Provençal restaurant means twists on familiar ingredients, like sweet-potato flavor, mushroom-caraway stuffing, turnips-and-apple chutney, baharat-spiced pumpkin spice, and roast turkey.
Dumpling Galaxy
How Much: $50 for tickets
Helen You makes the best dumpling in New York at her Flushing restaurant Dumpling Galaxy, and has become known for her creative approach and flavors. She's collaborating with Queens food guy Jeff Orlick for a Thanksgiving dinner, that, he says, blends Chinese and American flavors "without being too cute." On the menu: soup with bite-size dumplings, a cranberry saucelike relish, fried-rice stuffing, sautéed string beans, Peking duck–style roast turkey, sweet dumplings, and pie.
L'Amico
How Much: $72 for a three-course prix fixe, $36 for wine pairing
At the Italian restaurant, choose from appetizers like cacio e pepe and Parmesan sformato with prosciutto; entrées, including pumpkin ravioli and wood-fire-roasted turkey; and desserts like pecan pie and tiramisu.
Maialino
How Much: $115 for four courses, $65 for a kids' menu
The Roman restaurant will serve its Italian-American Thanksgiving, with tortelli di castagne and turkey with polenta, and another menu of Maialino classics, like malfatti with braised pork, turkey soup with egg, and more.
Mettā
How Much: $55 for adults, $25 for children
If you don't want the same old American standards, this wood-fired Argentine restaurant is serving a family-style meal of snacks like farmer cheese with pickled fennel; sides like chicory salad with anchovy dressing, Argentine-style skewers called galeto, and gravy and stuffing; and poached pear with ice cream.
Mifune
How Much: $90 for a special tasting menu
Head to the Japanese restaurant November 20 through Thanksgiving for an unconventional holiday meal of turkey takikomi rice, arare-battered scallop, miso-cream turkey fricassee, pumpkin mont blanc, and more.
If you want a blowout, fancy meal.
Craft
How Much: $110 for a three-course vegetarian dinner, $150 for three-course dinner
Expect family-style dishes like sea scallops and black truffle, roasted stripling steak and free-range turkey, and a dessert spread featuring apple crisp, spiced doughnuts with maple ice cream, and pumpkin pie.
Eleven Madison Park
How Much: $245 for four courses, $135 for wine pairing
At Daniel Humm's recently revamped fine-dining destination, you'll eat a fancified spread of chicken velouté with black truffles, roasted turkey with caramelized apples, foie-gras torchon, sides like potato mousseline, and desserts, including a pecan tart with malt ice cream.
Jean Georges
How Much: $188 for a four-course prix fixe, $98 for children 8 to 10
Go all out with options like peekytoe crab dumplings, butter-poached lobster with passion fruit, and an entrée choice of caramelized beef tenderloin or turkey with foie-gras stuffing. Or you can get some of the same dishes at Nougatine (à la carte, or $118 for a four-course tasting menu), but as part of a set menu with tuna tartare, butter-poached lobster, turkey and foie-gras stuffing, and pumpkin pie with toasted meringue.
The NoMad
How Much: $155 for a three-course prix fixe, $65 for children
At the hotel restaurant, they're serving appetizers like foie-gras torchon; main courses like bone marrow–crusted beef and roasted turkey with butternut squash; an assortment of classic sides, including chestnut stuffing; and tableside desserts.
Temple Court
How Much: $125 for three courses, menu here
The Beekman Hotel spot (née Fowler & Wells) will serve hamachi with sea urchin, and sweetbreads with Brussels sprouts for appetizers; turkey with the fixings and wagyu steak Diane (an extra $25) for entrées; and Baked Alaska, honey-nut cheesecake, and apple tarte Tatin for dessert.
If you want something traditional.
American Cut
How Much: $75 for three courses
The midtown steakhouse will serve specials like a lobster bisque with scallops, and turkey with chestnut and sausage stuffing; sides like Brussels sprouts with maple glaze; and pumpkin cheesecake for dessert.
Bowery Meat Company
How Much: $98 for a five-course prix fixe, $55 for wine pairing
One of New York's favorite steakhouses will serve cauliflower soup, turkey with sausage stuffing and more sides, pumpkin ravioli with mascarpone, and classic pies.
The Breslin Bar & Dining Room
How Much: $85 for a family-style meal, $45 for wine pairing
Over in the Ace Hotel, April Bloomfield & Co. are cooking squash and wild-rice soup, venison terrine en croûte, an entrée choice of turkey or rainbow trout, and pumpkin or pecan pie.
The Dutch
How Much: $125 for three courses, menu here
If you're downtown, the New American restaurant's menu includes appetizer choices like "Chinatown calamari" and New England clam chowder; a family-style main course of roast turkey with maple-chestnut mashed potato, gravy, andouille sausage, and much more; and a choice of dessert that includes a pumpkin cream puff and chocolate ice cake.
Le Coq Rico
How Much: $90 for four courses, $50 for wine pairing
Looking for an all-poultry meal? Head to this bistro, where you'll eat duck-foie-gras terrine with cranberry chutney, turkey consommé and black-truffle ravioli, stuffed turkey with sides like cabbage and chestnut fricassee, and a dessert of gingerbread and caramelized apple tart.
Leuca
How Much: $75 for a four-course prix fixe, as well as a limited à la carte (menu here)
If your family is visiting at Williamsburg's William Vale, consider Andrew Carmellini's restaurant where you'll have choices, including octopus with 'nduja, turkey breast with wood-smoked squash, and Sicilian pistachio cake.
If you have to feed a vegetarian.
abcV
How Much: À la carte
Jean-Georges Vongerichten isn't changing a thing at his vegetarian restaurant, where you can eat the regular menu of dosas, green-chickpea hummus, wok-fried ramen noodles, and more.
Dovetail
How Much: $150 for three courses, $130 for the vegetarian menu, $75 for children's menu
If you're on the Upper West Side and have veg-heads in your caravan, you'll find plenty to like here. There's roast turkey with sweet potato, creamed winter greens, and pecans for meat eaters; honey-squash velouté, and maitake mushrooms with pears and capers for vegetarians; and desserts like Scotch panna cotta for all.
Little Park
How Much: $95 for three courses, menu here
Andrew Carmellini's Tribeca hotel restaurant will also be open, and keeping its vegetable-centric approach. Starters include beet risotto with goat cheese and squash cavatelli with crab, while the main course of roasted turkey is served family-style with sweet-potato gratin and other sides. For dessert, there's pumpkin cake, apple strudel, and chocolate cake.
Narcissa
How Much: $84 for three courses
At the Standard hotel in the East Village, Narcissa will serve restaurant signatures like its carrot Wellington, plus turkey breast and stuffed leg, mashed potato, and bread-pudding brûlée.
Reynard
How Much: $95 for a three-course prix fixe
Eat apple-and-sunchoke salad or whole wood-roasted cauliflower; entrées like "wood kissed" turkey with mushroom gravy and rib of beef with whipped marrow; sides like maple sweet potatoes; and chocolate budino or apple pie for dessert.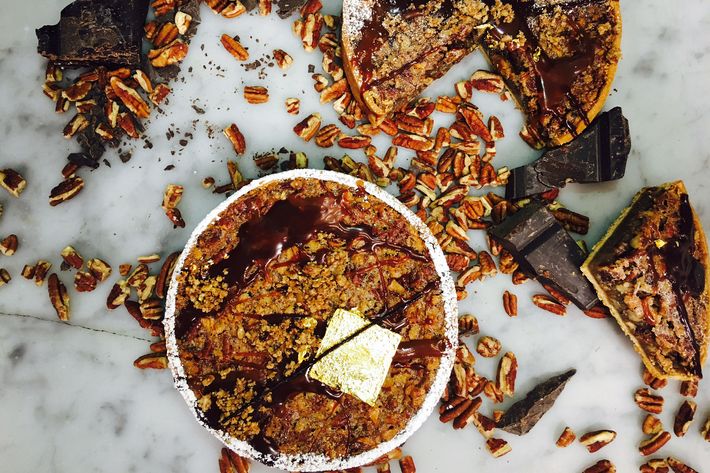 If you're in charge of picking up the pies.
Daly Pie
How Much: $30 to $35, order here
You'll have plenty of options from this shop, which is taking orders through November 19 for its apple crisp, vegan apple, chocolate-bourbon-pecan, lumberjack (maple-pear-walnut crisp), and other pies.
The Dutch
How Much: $42 each
The New American restaurant will make its pumpkin, pecan, and caramel-apple pies available for you to pretend you made them yourself.
Houseman
How Much: $50 per pie
Go classic southern with a pecan pie, or get a tweak on the American favorite in apple with parsnip.
Ice & Vice
How Much: $42, order here, $89 via Goldbely for customers outside New York
No one makes ice cream as good as Ice & Vice, and the Lower East Side shop has a special Gingerbread Man ice-cream pie available for the holiday.
Great Northern Food Hall
How Much: $8 to $38, order here
One of New York's better bakeries has classic apple and pumpkin pies, as well as pumpkin-walnut loaf ($8) and maple-pumpkin muffins ($23) for brunching.
Greenwich Grille
How Much: $32 to $35
If you're in the Village, order your pumpkin or pecan pie, cranberry cheesecake, or apple cobbler by noon on November 21.
Kreuther Handcrafted Chocolate
How Much: $22
This great chocolatier will make a chocolate-pecan pie with maple-syrup topping, available for preorder, or in limited quantities on Thanksgiving.
Morgenstern's
How Much: $39 to $48.50, preorder here
It's good pie for a good cause. A dollar from every pie will go to the Ali Forney Center, which serves homeless and runaway LGBTQ youth. Flavors include Mississippi mud pie with chocolate crust, pumpkin pie with sugar-cone crust, and lemon-cardamom meringue pie.
Runner & Stone
How Much: $5 to $33, order here
Supplement your sides with a spiced pecan, flourless chocolate tart ($33), dried-plum-and-walnut Linzer tart ($28), apple tart with almond crumble ($28), and pumpkin tart with maple meringue ($28). (They're also baking loaves like the cheddar-stout bread ($9) for sopping up sauces, and selling stuffing mix ($5) to make the cooking easier.)
Smile to Go
How Much: $36 to $40
Need some pep in your pumpkin pie's step? Get a bourbon pumpkin pie here. There's also pear-and-cranberry crisp and maple pecan, as well as a cookie platter — perfect for a more low-key celebration.
If you're eating in, but don't actually want to cook.
Bklyn Larder
How Much: $6.50 to $133
If you're in or around Park Slope, head here for all your needs. Their menu includes green-bean casserole ($17.50 per pound); cauliflower gratin with Gruyère ($6.50 for small, $13 for large); harvest cheeses ($59, feeds 8 to 12); pies ($40, feeds 8 to 10); and brined, rolled, and sausage-stuffed turkey ($67 for a half-roll that feeds 4 to 6, or $133 for a whole roll that feeds 8 to 10).
Blue Smoke
How Much: $100 to $225
Want to have a Turkey Day like back in the South, but don't want to cook? The barbecue spot has packages for four, six, and ten people with smoked turkey, cornbread stuffing, biscuits, pies, and more.
Daily Provisions
How Much: $168 to $485 for packages, $42 for pies
The Gramercy café has full meals for groups of 4, 8, and 12, with packages that include rotisserie turkey, gravy, a kale-and-marinated-broccoli salad, turkey-giblet-and-mushroom stuffing, mashed potatoes, and roasted vegetables.
Fleishers
How Much: $8 to $15 a pound for turkey, order here
It's unlikely that you'll find better-quality turkeys anywhere else than this butcher, where you can reserve and then pick up pasture-raised and heritage-breed birds from November 20 through November 22.
Foster Sundry
How Much: $6 to $14; order turkey, duck, or ham here
The Bushwick market makes great prepared foods year-round, and for the holiday will have preportioned buttermilk-biscuit dough ($8 for a pack of six), gravy ($7 a pint), apple butter ($6 for four ounces), stuffing sausage ($14 a pound), and more. Along with foods to help you with your sides selection, the market has local turkeys, whole roast ham cured and smoked in-house, and Long Island duck.
Houseman
How Much: $50 per person, two-person minimum for the meal.
Cover all of your bases with confit turkey leg, slow-poached turkey breast with gribenes salad, long-grain rice with collard greens, cranberry sauce, gravy, and more.
Marlow & Daughters
How Much: $7 to $55
In Williamsburg, you'll find turkey ($7 to $10 a pound) and ready-to-eat sides like an apple poppy-seed roll ($55), potato gratin, roasted Brussels sprouts ($25 a quart), sausage stuffing ($30 a quart), and more.
Smile to Go
How Much: $25 to $150
You can cover all of your bases here, getting sides like sourdough stuffing with dates and sweet Italian sausage ($25 for small, $50 for large), green beans with shallots ($25 for small, $50 for large) and other vegetables, a half or whole apple-cider-brined turkey ($75 or $150), and more.
White Gold Butchers
How Much: $119 to $196 for turkeys, $7.50 to $18 for sides
Need a turkey on the Upper West Side? April Bloomfield's butcher shop–restaurant will have both raw and cooked turkeys (pick up November 20 through 23 for raw, November 22 through 23 for cooked, or Manhattan delivery November 20 through 22). You can also supplement your sides with roasted pumpkin ($16 a quart), turkey stock ($12 a quart), buttermilk mashed potatoes ($16 a quart), and more.