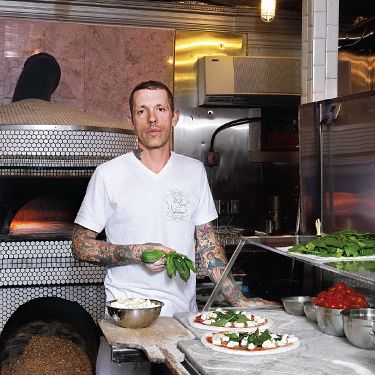 Don't call it a comeback.
Photo: Hannah Whitaker/New York Magazine
The rumors are true: Anthony Mangieri's famed Una Pizza Napoletana will land in New York in the spring of 2018 — a collaboration with Contra and Wildair's Jeremiah Stone and Fabián von Hauske. Mangieri opened Una in Point Pleasant Beach, New Jersey, in 1996, moved the restaurant to the East Village in 2004, and then in 2009, relocated it once again to San Francisco. He's often credited with popularizing Neapolitan-style pies Stateside.
Mangieri will close the San Francisco operation to make the pizza himself on the Lower East Side, at 175 Orchard Street. He had been thinking about moving back to the East Coast to be closer to family when he met Stone and von Hauske. Stone was already a fan. "I introduced myself a long time ago, but I don't think he remembers," Stone says. "I love his pizza, and we just meshed. He's very straightforward, and he's a nice guy who doesn't have ulterior motives. It's hard to find in this industry."
Mangieri will focus solely on pizza, and the Wildair team will make snacks and desserts that complement the pies. There will also be natural wine, of course, but don't expect anything too fussy. "There will be no gas oven with whole-wheat flour," Stone promises. "We're keeping the purity of the idea."