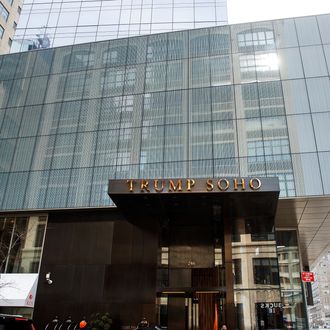 Hopefully, hotel guests have rediscovered their appetite.
Photo: Drew Angerer/Getty Images
Trump Soho, the president's luxe $450 million Manhattan hotel, has finally lured in a replacement for Koi, its old restaurant tenant. The space, you'll remember, was abandoned five months ago by the pricey Japanese chain, which blamed a sharp drop in business since the election. (Koi's five other locations on two continents, including a second New York City outpost near Bryant Square, are reportedly doing just fine.)
The new spot is something called Spring & Varick — the streets Trump Soho's at the corner of. Run by chef John Creger, it promises "playful and interactive dishes" in a space described as "art deco meets modern décor with a rotating mix of local art adorning the walls." Dishes include short-rib pinwheels crusted with hemp-leaf gremolata, beet ravioli with pesto ricotta, and matcha pancakes. In other words, things its owner will never in a million years eat. The New York Post says the grand opening is this week, and you have to assume that the hotel is hoping it goes more suavely than today's other news involving Trump and koi.
Maybe there weren't many other offers on the table, but the Trump team is putting lots of faith in Creger. Before this, he used to be at Artisanal — the midtown brasserie that filed for bankruptcy this year — and Bushwick's Fair Weather, which closed in 2016. He's also worked at Bobby Flay's Bar Americain, which will shutter in January, and New York fine-dining institution Le Cirque, which closes forever on New Year's Eve.