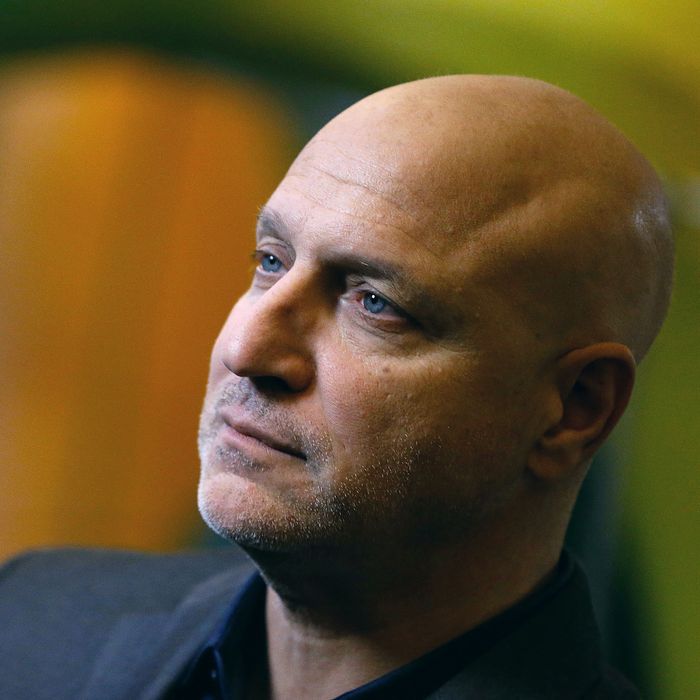 Tom Colicchio.
Photo: John Lamparski/WireImage
In the 20 days since the New Orleans Times-Picayune released its damning report about sexual harassment in John Besh's restaurants, leading male chefs and restaurateurs have been almost unanimously silent. A notable exception was Anthony Bourdain, who called out "meathead culture" in several interviews, and now Tom Colicchio has published comments reflecting on the Besh report and restaurant culture in general.
In a Medium post titled "An Open Letter to (Male) Chefs," Colicchio writes that the industry's culture of widespread sexual harassment is not "exactly a shocker," nor is it "just a matter of a few bad eggs."
Colicchio makes a broad call for change, but doesn't delve into specifics, or detail what he's doing differently at his own restaurants. What he does say is that the industry needs to recognize the culture responsible for workplaces like Besh's, and the many other kitchens out there with similar problems that have not been or will not be exposed. Colicchio points to systematic misogyny in kitchen culture, but people shouldn't have to be told that a stressful workplace doesn't justify sexism and aggressive behavior. He also talks about times when his own behavior was lacking:
My kitchen is hardly perfect. I've let my temper run high and driven the pressure up. I've brushed off the leering without acknowledging its underlying hostility. I once called a journalist a 'rumor-mongering b — h' for printing gossip that hurt my staff, a gendered slur that I regret. But I count myself lucky: I had a father who wouldn't allow disrespect of my mother, and that lesson sunk in more fully during my formative years than the casual misogyny I saw everywhere else. 
Rather than just thinking about behavior, Colicchio also argues that the industry needs to ask how it's created obstacles for women, uncritically enshrined a culture of aggression, and made unsustainable demands on people:
We need to do more than pay lip service to fixing this. It's not enough for us to ask, 'How can we behave differently around our women employees and coworkers?' Instead we should be asking 'What barriers to their success do I owe it to them to remove?' Those of us with our own kitchens should be asking 'What have I been able to take for granted on my way to the top that women often can't, and how can I help fix that?' It's time we reimagine the family-averse work week that tells young cooks being a 'real' chef is incompatible with being a parent. That tradeoff is a Faustian bargain, and its own form of harassment. And while we're at it, let's scrap those beloved myths about brawn, blood, and blind sacrifice that chefs and their acolytes use to justify exploitative work conditions. Sure, we all sweated and scrapped and worked damn hard to get where we are, but most of us did it without the added torment of sexual harassment. Enough.