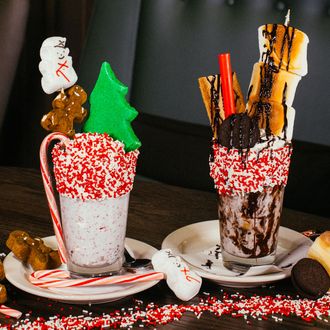 Hold out for the next version with a cake slice on top.
Photo: Courtesy of TGI Fridays
Today, TGI Fridays unveiled new Extreme milkshakes that "take dessert to the next level" by "amplifying the traditional milkshake with cascading toppings for an indulgent holiday treat."
Shake No. 1 is a Christmassy offering named the Stocking Stuffer: vanilla ice cream mixed with unspecified other ingredients, topped with whipped cream, sprinkles, holiday cookies shaped like gingerbread men and Christmas trees, a candy cane, and snowman Peeps. You're invited to add Smirnoff Vanilla "to make it Boozy." The second concoction is Toasted S'mores, a vanilla shake with Ghirardelli chocolate sauce, more whipped cream and sprinkles, plus a skewer of toasted marshmallows, whole Oreo cookies, and pieces of graham cracker. (This one also becomes "Boozy" with the addition of Smirnoff Vanilla and brandy.)
Unfortunately for TGI Fridays, people with memories of recent New York food trends, followers of food porn on Instagram, and even viewers of the Today show won't be fooled by Extreme shakes: Their creations seem like less exciting versions of Black Tap's famous milkshakes, which attract hours-long lines.
The gonzo-est sugar-coma creations at the Manhattan burger joint (which has now expanded to Dubai and Disneyland) would slow a Fridays' kitchen to a crawl:
But the inspiration seems pretty clear all the same, down to borrowing grahams, toasted marshmallows, and Peeps. In fact, Black Tap's S'mores shake was one of its first to go viral.
TGI Fridays isn't even the first chain to plagiarize Black Tap. That distinction belongs to the Lebanon arm of coffee chain Dunkin' Donuts: