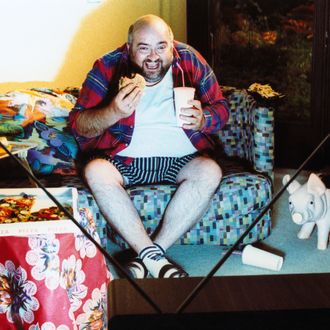 This guy is certain pizza counts as a vegetable.
Photo: Paul Harizan/Getty Images
Just one in ten American adults eats enough fruits and vegetables, according to a big new study of their dietary habits by the U.S. government. Drawing data from something called the Behavioral Risk Factor Surveillance System, the CDC scolds anyone willing to read its report that a sad 12 percent of the country satisfies the daily recommended amount of fruit (1.5 to 2 cups). This then plummets to 9 percent for vegetables (2 to 3 cups per day).
The study basically shames everybody in America, but it predictably found certain groups are worse eaters than others. For instance, 12 percent of adults in Alaska eat enough vegetables (gold medal to them — that's the highest proportion of any state), but less than 6 percent do the same in West Virginia. Sad yet expected, being poor also hurts your chances of consuming enough produce: 7 percent of poor Americans meet the veggie recommendation, versus 11.4 of the wealthy. And just 6.7 percent of 18- to 30-year-olds get their veggies, a figure that accounted for "the lowest proportion of persons meeting recommendations for fruit and vegetable intake," which is sort of also not surprising.
The least remarkable discrepancy of them all, though, is that women eat better than men. While 15.1 percent of females consume the right amount of fruit, only 9.2 percent of guys do. Likewise, 10.9 percent of women eat the amount of veggies the USDA says will help ward off obesity, heart disease, type 2 diabetes, some cancers, and even death, but only 7.6 percent of men bother following those instructions. They probably don't want 4.7 more years of life expectancy anyways.