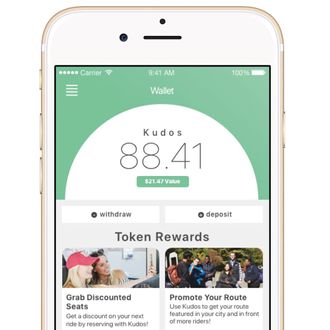 What it looks like when tipping gets "disrupted."
Photo: Kudos
A New York–based tech start-up says it's solved the problem of tipping, something that's baffled veteran restaurateurs like Danny Meyer for years. Business Insider reports that the long-awaited fix is actually a "side project" of the team at Skedaddle, which is "Uber for buses." Here's a picture of the CEO, chief strategy officer, chief technology officer, and chief product officer smiling about their accomplishment:
These tech bros' so-called Kudos Project replaces tips with Yelp-style ratings. Under this system, customers eat their meals, find their servers on the Kudos app, assign them one to five "tokens," then leave with wallets still full of cash. The ratings are instantly published and stored in a secure blockchain — which workers redeem for "rewards" whose real-world value is tied to a cryptocurrency (Ethereum), saving them from the old-school method of getting paid in "clunky, antiquated, and discriminatory tips." Their scorecards also conveniently follow them from job to job: Say they babysit as teenagers, hold three restaurant jobs in college, then work at a nice steakhouse, but later just go become an Uber driver — Kudos would have record of it all.
This may sound complicated. That's okay. The Kudos website has gamely distilled it into a simple "ecosystem" flowchart to help: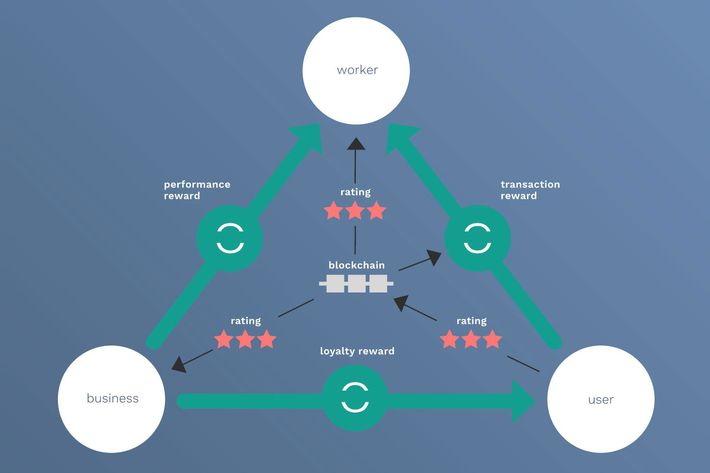 Handy chart notwithstanding, the reception so far to Kudos has been pretty thin on understanding, or even general goodwill. Everyone from tech writers and venture capitalists to the New York Times' restaurant critic have basically started mocking it as the worst idea since Bodega:
Business Insider says they've already raised $6 million, and plan to launch an ICO — the cryptocurrency version of an IPO — in January.