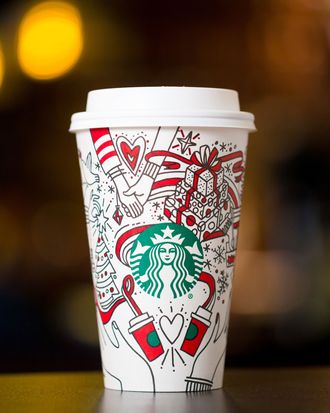 What are the holidays without a Starbucks cup controversy?
Photo: Joshua Trujillo/Starbucks
People thwarted in their hunt for something to despise about this year's Starbucks holiday cups apparently just needed to look harder. Apparently, it's now clear the coffee chain went covert with its liberal agenda this year. Look at the two hand-holders Starbucks placed above the Siren logo on its cup — notice anything unusual about them?
Fine, it's that they might be lesbians.
Blame BuzzFeed News, which seems to largely be the instigator here (weird, right?). It ran an article yesterday evening in which the site's deputy business editor, Venessa Wong, posited that the cups are "totally gay" and, unbeknownst to everyday customers, "have a gay agenda" because of that pair of hands.
Up until now, the only group upset about the cups was environmental activists (who hate all Starbucks holiday cups, because for the past 20 years, they haven't been 100 percent recyclable). But when Starbucks launched them back in October, it posted a video presumably intended to celebrate different people enjoying the holidays together — by, of course, consuming Starbucks beverages out of its new cups. At the end, there are two women holding hands over a cup of coffee.
A few people on Twitter noticed this, but that was as far as the conspiracy went at first:
BuzzFeed seems to have legitimized the theory that the two sets of hands on the cup are both female as well, and therefore belong to lesbians. A "gay" BuzzFeed staffer even confirms it — "I can attest to the lesbianism of The Hands," this person tells Wong.
So, it begins.