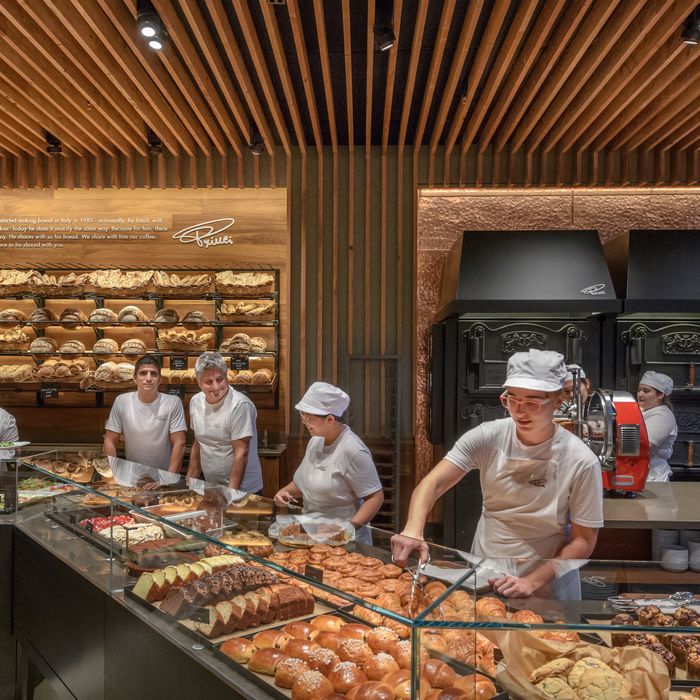 The first location at Seattle's Reserve Roastery.
Photo: Matt Glac
Starbucks has unveiled the perfect complement to your next Zombie or Unicorn Frappuccino: upscale Italian pastries like "you've never seen in America." These first-of-their-kind baked goods mark the coffee giant's latest plans for world domination, which involve spinning off a bakery-only concept called Princi that sells its own brand of breads and pastries.
The company says it's opening the inaugural store today in Seattle, although that one isn't a stand-alone location. Instead, it's incorporated into Starbucks's high-end Reserve Roastery, possibly to stress Princi's ties to the Green Mermaid before setting it adrift. The project is a bold play for a greater share of the fast-lunch pie, and has been in the works for a while: Princi is a small bakery chain that already exists in Italy. Howard Schultz — who built Starbucks around his Italy obsession — is a big fan of Princi's stores, which he's called a "visually intoxicating environment." Last July, Starbucks invested in Princi and entered into an exclusive licensing agreement. Originally, the plan was to serve Princi products in Starbucks's Reserve stores, but it seems that's grown more ambitious.
Schultz tells the Washington Post that they hope to start opening stand-alone Princi bakeries "across the country" by next year. The first will be in New York City, Seattle, and Chicago. (One of them is reportedly already being erected in Red Hook.) The company's had clear designs on conquering the lunch crowd for a while, but so far they've largely floundered. A major reason why is existential: Coffee shops don't need full kitchens, so customers swinging by the local 'Bucks for a latte are going to roll their eyes at a cold case filled with $10 sandwiches, sushi burritos, and organic avocado "spread."
The Princi locations will still serve Starbucks coffee, but they'll boast full kitchens and employ "commessas" who will serve as "food ambassadors" to what Starbucks apparently expects to be a very confused set of customers. The menu runs more than 100 items, all made from ingredients freshly imported from Italy — there are egg dishes for breakfast, focaccia sandwiches, small plates for dinner, cocktails, and the usual baker's gamut of croissants and cookies.
Schultz warns the Post's readers that "we're getting into the food business," in case there was any doubt about that.