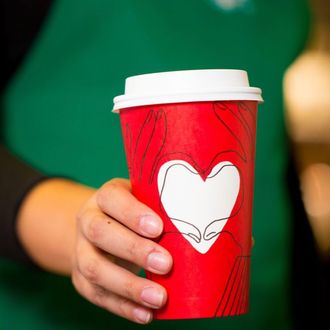 Definitely boycottable.
Photo: Starbucks
Starbucks has a surprise today for people who are boycotting its holiday cups for this, that, or the other reason. It's released a second cup in a conspicuously red color that will be around for the rest of the season. It has a white heart in the middle where you're supposed to write a loved one's name. In case of any confusion about the wholesomeness, Starbucks's press release features a pic of Gwen Stefani safely dedicating her super-Christmassy cup to conservative country-singer boyfriend Blake Shelton. The only potential scandal is that Starbucks framed the heart in a pair of gender-nonspecific hands, which might not thrill the crowd still sore about the first cup's supposed "gay agenda."
Besides angering the anti-gay crowd, the initial 2017 cup — which is mostly white with a bunch of vaguely Dr. Seussian doodles and a pair of clasping, maybe same-sex hands — also displeased environmental activists because, like its 20 predecessors, it isn't recyclable. Starbucks calls the new cup's design "clean," and contends that the blank white heart is about "remembering what it means to give love and put goodness out into the world."
It's also been in the works for 11 months, the company adds, but just wasn't announced until today. Sure.