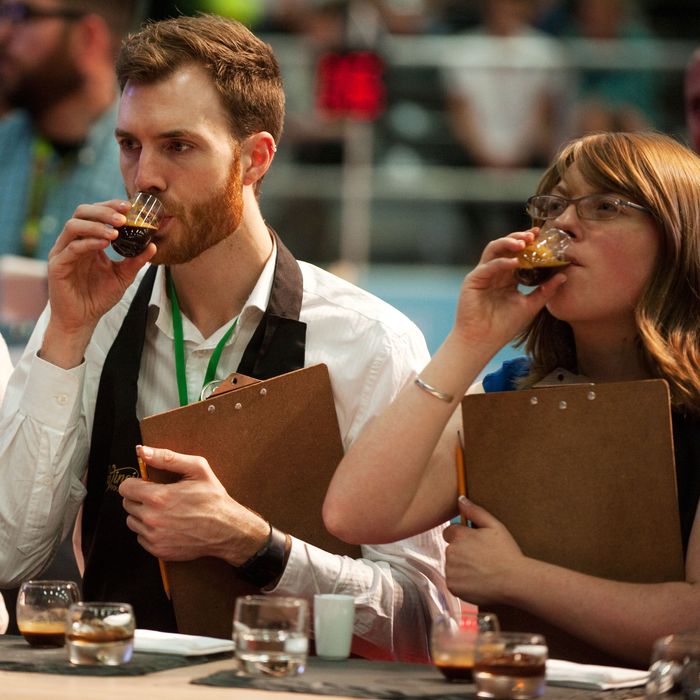 Tastes kind of bitter.
Photo: Eitan Abramovich/AFP/Getty Images
The world's biggest coffee trade group has sent members into open revolt over a new policy that critics are calling "a direct affront to queer, trans, and allied coffee professionals across the planet." In September, the organization — known as the Specialty Coffee Association — awarded three of its top tournaments (2018's World Brewers Cup, World Cup Tasters Championship, and World Coffee Roasting Championship) to the United Arab Emirates, a country with a long history of human-rights abuses, an especially flagrant one being its mistreatment of the LGBTQ community. There was an industrywide outcry, and the SCA spent two months reevaluating its position. Yesterday, the group's board of directors released their final decision about whether the UAE should host those events, and the answer is not very LGBTQ-friendly.
In short, the SCA green-lit Dubai, but offered event participants something called "Deferred Candidacy." Under this policy, "qualifying" baristas can defer their entry into Earth's most prestigious set of coffee tournaments "to the following year" if they don't want to enter the UAE. Sprudge — craft coffee's leading blog — explained the problems with this solution in a post that doubled as news that it was withdrawing immediately as SCA's media partner:
Today's announcement from the Specialty Coffee Association Board of Directors is wildly offensive and unviable. This language — "to protect competitors who may be prevented from participating in a world championship event due to nationality, ethnicity, gender identity, sexual identity/orientation, health, bereavement, or force majeure" — compares competing while gay under threat of legal penalty with that of a death in the family. It says that being gay is roughly equivalent to enduring a tragedy. It contains no protections, or event acknowledgements, of the dangers faced by queer volunteers, coaches, judges, vendors, members of the press, and traveling attendees in countries like the UAE.
Sprudge's editors continued by adding that this system would in essence force LGBTQ competitors to out themselves to their national body first in order to justify why they feel unsafe visiting a country with anti-gay laws:
We could shed thousands of words on why, exactly, this policy is bullshit, but go and talk to any gay or queer person and they'll tell you: formal outing in the name of bureaucratic authorization is wildly insensitive, untenable, and unacceptable. This is a direct affront to queer, trans, and allied coffee professionals across the planet, and it now the formal policy of the SCA. It is inherently exclusionary; it places the burden of resolution on the victim of the SCA's decision to voluntarily award events to countries with homophobic laws; and it does not protect anyone else involved in the equation, including the SCA and WCE's own staff, many of whom are gay or trans or queer or consider themselves allies, and for whom, hoo boy, this has got to be a real shit show.
Many coffee-industry pros were quick to show their anger and their support of Sprudge:
By happenstance, the 2017 World Barista Championship is being held this week. Sprudge has suspended its coverage of the event entirely, and brought the team it had on the ground in Seoul back home. The SCA hasn't commented further yet, but the announcement by its directors says their decision came after "difficult conversations about inclusivity and the safety of world championship competitors," adding that they do recognize their policy "is not perfect."