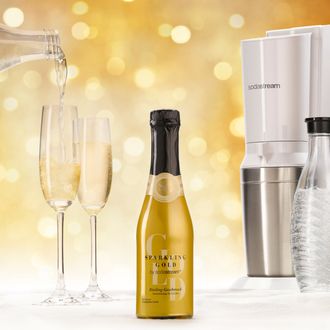 Possibly the world's finest sparkling-wine product that you mix by the glass.
Photo: SodaStream
For ages, people have been force-carbonating alcohol (like for a fizzy spin on Hemingway daiquiris) in their SodaStream machines. The company has never approved of this, and in fact warns that it voids your warranty, but the beverage giant may finally be coming around. Its latest gimmick, a mix called Sparkling Gold, gives you a way to turn tap water into sparkling wine at the touch of a button. You add the special Palcohol-like syrup to soda water, and it gives you a "fun" beverage "resembling the taste of a fruity Riesling wine." (It's like grabbing a bottle of "wine product" from a New York grocery store without leaving the comfort of your kitchen!)
Sparkling Gold is SodaStream's first alcoholic mixer, but America isn't getting it just yet. For now, the company is limiting these "exciting concentrates" to its online store in Germany — which may help explain why it picked something Riesling-esque. A hundred Germans supposedly taste-tested the mixture, and SodaStream claims Sparkling Gold received a higher rating than "actual French champagnes" like the world-renowned "Moet & Chardon" (56 people liked Moet, versus 76 for SodaStream's concoction, although this may be a trick because it's actually spelled "Chandon").
Sparkling Gold comes in a "beautiful" gold-tinted bottle that yields 12 glasses of wine. However, they're a mere 10 percent alcohol by volume when prepared "using the recommended mixing ratio," so Germans might want to double or triple up when buying.