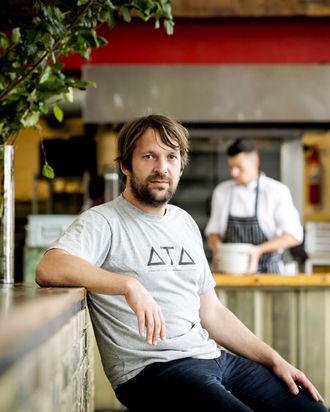 He's
baaack
.
Photo: Robin van Lonkhuijsen/AFP/Getty Images
It was over two years ago that René Redzepi announced his grand plan to reopen Noma on an urban farm in Copenhagen, and as of next week you can get one step closer to bragging to your friends that you ate there. Reservations open on November 16.
Noma 2.0 will launch in February, seating 40 and serving lunch and dinner four days a week. Redzepi has raised the price from 2,000 to 2,250 DKK, or about $338, and drinks aren't included. Impressively, he'll reserve 10 percent of the restaurant for students, every night. Those seats will cost 1,000 DKK, or $157, including wine pairings. Noma will choose students at random.
As for the food, Redzepi will kick things off with a Scandinavian seafood menu — "each serving on the menu will include some element from the ocean." If you have a seafood allergy, no stress; it will change "dramatically" three times a year, transitioning to vegetable season in early summer to early fall, and then "game and forest season" through January.