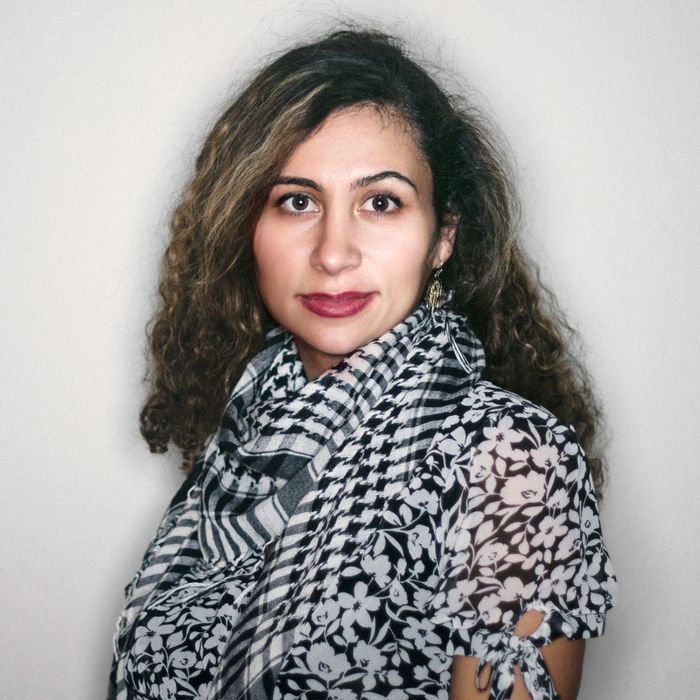 "My go-to is always avocado and labneh — that's the California love."
Photo: M. Cooper
A mere five months ago in Oakland, Reem Assil opened Reem's, a small Arab bakery that's an extension of her farmer's-market stand, specializing in mana'eesh (griddled flatbread). Quickly, it made a lot of noise on a national level, becoming a political lightning rod because of a controversial mural. This week, Assil traveled to New York to cook at a pop-up called the Asymmetrical Table, further spreading her gospel of Arab street food "made with California love." While here, she stopped for late-night pizza, ate tahini toast at Dimes, and prepped 50 pounds of onions. Read all about it in this week's Grub Street Diet.
Wednesday, November 8
Everyone makes fun of me for eating Puffins, calling me California hippie. This morning, I was at home in Oakland, rushing out the door. Usually, I'll bring my cereal to work, but I have a co-worker who yells at me for eating cereal. She's a midwife on the side, so she's always looking out for me because I'm pregnant. Puffins are my go-to snack.
Leftover Thai food for lunch. My mom made a surprise visit to the Bay Area so we had Thai food together at Bangkok Noodles. She lives down in L.A. and she tends to come up every month or so, but you never know when she's coming. We do little slumber parties at the hotel she stays at, and we literally ate Thai food in her room. Pad Thai with shrimp and pad kee mao.
At Reem's, I snacked on a date-and-apple scone. Scones are one of my specialties. We've been playing around with savory za'atar scones.
For dinner, I had a miso ramen bowl from a place called Shiba Ramen. Pork belly with all the fixings. I always get the corn add-on.
My husband and I have this fun obsession with late-night doughnuts. We always sort of laugh that in the Bay Area, Dunkin wasn't able to penetrate because the Cambodia shops are so gangster. I love Colonial Donuts on Grand Avenue. It's a little hole in the wall, but it's a legacy. I had a glazed doughnut.
Thursday, November 9
Granola and milk for breakfast, at work. We have a housemade granola that's sweet and savory. Sometimes I have it with labneh, but today it was just with milk.
For lunch, I had an arugula salad with pomelo, pistachio, feta, and tarragon vinaigrette. One of my line cooks made it. We love pomelos. It's funny, in the Middle East, pomelos look very different than they do here. Our pomelos are much lighter. They taste just as sweet, though.
I also had batata harra — garlic cilantro fries with a harissa dip. In Arabic, it literally means "spicy potatoes." It's a very traditional dish. You usually eat it more like home fries. We added a labneh-harissa sauce as a dip, as if it weren't spicy enough. Salad and fries are my favorite combo for lunch.
Off our dinner menu, I had a kibbeh-spiced beef-and-bulgar dish, with walnuts, pine nuts, mujaddarah (Palestinian rice pilaf), and a cucumber-yogurt salad. We do kibbeh two ways. The one that's easier to describe in English is a croquette, bulgar and meat is the shell, and then it's filled with pine nuts and ground beef and it's fried. We bake it. And then we do one — I don't want to call it meatloaf, but it's kind of like that. We traditionally eat it with yogurt.
A vegan chocolate bar for dessert. I don't even know what the brand was. If there's anything sweet lying around, I eat it. We just started serving dinner at Reem's, so they're epic, long days.
Friday, November 10
I started the day with Reem's Golden State: a flatbread with a scramble of egg and shakshuka sauce, topped with cherry tomatoes, parsley, and feta. The Golden State is my homage to California, but also the Golden State Warriors. We scramble an egg with our housemade shakshuka sauce. A lot of shakshuka sauces are just tomato, but ours has a red-pepper base, so it's sweet. It looks like a swirl of yellow and red, like the sun. We use our flatbreads to make a kind of sopa, and we pinch it up and scramble the eggs into the bread, and then we bake it off, so it looks like a quiche. It gets topped with feta, parsley, and tomatoes. And I put avocado on mine. My go-to is always avocado and labneh — that's the California love.
We were doing some menu testing, so later I had fried Brussels sprouts three ways: with za'atar, with Aleppo, and what I call Arabic chimichurri: cilantro, parsley, garlic, serranos, olive oil, and then some lemon tahini.
There's a big Asian population in Oakland. My friend stopped at a Vietnamese shop and got me a pandan waffle. Slightly sweet, tropical flavor. I also had a hibiscus-rose drink from Reem's.
Dinner was tacos and tortilla chips from my favorite truck, called Sinaloa. If anyone comes to Oakland, this is the best! They now have two or three trucks. The original one is close to Reem's. Our neighborhood is known for its taco trucks and Mexican cuisine.
Plus, chocolate-peanut-butter cups from Trader Joes. I always have to have dessert.
Saturday, November 11
Brekkie was fattet hummus: savory yogurt bread pudding with garlic chickpeas and pine nuts. It's a popular dish for breakfast; essentially we take fried leftover pita and we make it like a bread pudding with yogurt, tahini, and garlic. It gets soaked in a broth of chickpeas and aromatic spices.
I snacked on almonds, and then had a salad at the airport for lunch with spinach, strawberries, goat cheese, candied walnuts, and balsamic vinaigrette. I just had to find the fastest thing.
Dinner was late-night pizza in New York! I got in at like 12:30. It was at a place call Dough Boys. It's kind of a special treat to come to New York. Reem's has been in farmer's markets, but we just opened our bakery about five and a half months ago. The organizers of an event, the Asymmetrical Table, reached out to me a few weeks ago, because they heard that I'd been experiencing some backlash from a group of Israeli organizations that were upset we were culturally asserting ourselves as Palestinians. I received a slew of attacks on Yelp, accusing me of being a terrorist and a terrorist supporter. It was really horrible. Reem's is all about building community, and it was upsetting that they were trying to defame me.
Jewish Voices for Peace wanted to figure out how they could support Reem's and show folks what Palestinian food, but really Arab food in general, is all about. The idea was that supporting a Palestinian business that was receiving backlash was a powerful way to resist. I loved the idea of working with other Palestinian chefs. I say my food is Arab street food made with California love. It's not a fusion — California is a part of me. I'm a child of the diaspora and I've never lived in Palestine, so I can't claim to know the struggles, but I know the struggles of being the child of immigrants. The food I grew up with here is different from what folks grew up with in Palestine. The word authenticity is a silly thing, because my food is authentic to me.
Sunday, November 12
For breakfast, a chocolate-hazelnut croissant and coffee at a café called Perk, in Murray Hill, near my sister's apartment.
I later had toast with tahini and honey and a smoked-trout-and-egg scramble at Dimes, the location of Monday's event. We took a break from prep to have lunch. For the dinner, I was making 50 pounds of onions — caramelizing them for a fish dish — and we were also making the base for our salsa, roasting butternut squash for our squash-tahini dip, and getting spices ready for our eggplant-lentil soup.
My sister took me to a restaurant in Harlem for puri, samosas, and a chicken-kebab burger. It's kind of a blur after a day full of prep!
Monday, November 13
We resumed prepping at Dimes and I had a bagel in the morning and then I had an açai bowl. We were pretty much prepping all day, so a lot of nibbling and tasting of eggplant. We were marinating hake and making a bunch of spice mixes.
Family dinner was a hodgepodge of things: fish sayadia, a slaw with roasted apples and zucchini, a buttermilk dressing with nigella seeds, labneh, our bread, and rice.
It was hugely successful. We sourced all of our ingredients locally. Our spices came from a company called Burlap & Barrel, and they source directly from farmers in the Middle East and Southeast Asia and they were amazing. There were eight of us in the kitchen doing all the plating and expoing. People from many different facets of the organizations. It was cool because we didn't really know each other previously, and all got to come together and play.