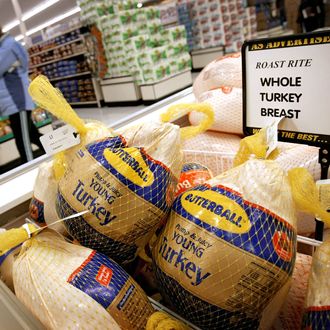 Gobble, gobble.
Photo: Eric Francis/Bloomberg via Getty Images
Don't forget to say a very special thank-you this Thursday for the U.S. grocery industry's ever-escalating battle for shoppers. Several new reports show that the cost of this year's Thanksgiving dinner is almost the lowest it has been in the past decade, which you can mostly credit to stores' price-cutting brinkmanship.
Every year since 1986, the American Farm Bureau has tabulated the cost of 12 holiday ingredients that make up a "feast for ten": turkey, sweet potatoes, cranberries, rolls, stuffing, veggies, milk, pumpkin-pie mix and crust, etc. By the group's 2017 math, the average total is $49.12, a 1.5 percent decrease from 2016. The AFB says prices have only been lower once since 2011. As usual, turkey was the only potential budget-buster: a 16-pounder averaged $22.38 this time, or roughly $1.40 per pound. That's 36 cents less compared to 2016, accounting for almost half of 2017's savings. But it's no wonder, given the competitive current environment; discount turkeys are the best customer bait — sort of a gateway drug to Thanksgiving supermarket shopping.
Bloomberg did its own price analysis, meanwhile, and it also reports Thanksgiving dinner is cheaper at major grocery chains this year. It says a basket of 20 products purchased at Walmart clocked in at $54.84, about 6.7 percent less than last year. A "similar" selection at Aldi was $41.19, also down 2.6 percent from the 2016 price. Stop & Shop's basket cost $62.93, or 9.4 percent less. And while no chain that Bloomberg mentioned was more expensive than Whole Foods, the cost there had dropped the most: to $113.71, a reduction of about 16 percent.
Amazon's price cuts, Lidl's very successful U.S. invasion, Aldi's growth, Walmart's own maneuvering … the industry has become downright cutthroat in recent months. Bloomberg notes that the wholesale prices of many groceries have actually been on the rise for the past three months, yet none of the big players have dared pass those increases along to customers. "Nobody wants to be the first one to raise prices," an analyst says.
Sources