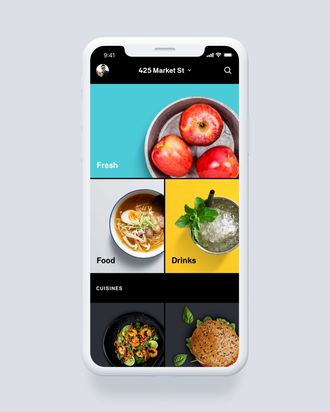 Perfect if you need just "another sprig of oregano, mint, or thyme," Postmates says.
Photo: Postmates
The death of AmazonFresh in lots of states suggests even the world's top shipping company can't crack grocery delivery yet. Undeterred, Postmates has issued a hold-my-beer message to its larger rival: It said yesterday that it's released an "on-demand farmer's market" called — wait for it — Fresh. It's very similar to Amazon's same-named service, only delivery is supposedly four times faster and costs less money.
In a blog post, Postmates describes it as a "curated" platform that went live Wednesday on its newly revamped app. If the post had been used to play a game of trendy-millennial-food bingo, everybody would've won: It brags customers can order "LaCroix, Halo Top, Kombucha, free range chicken, prosciutto, salmon filet, organic apples, avocados," and hundreds of other "essentials."
While couriers have been going on Whole Foods and Trader Joe's runs since day one, Postmates has ultimately let many customers down — sort of misleadingly a ripoff, critics have said, and not particularly speedy. This new service is an attempt to show off improvements for users in New York, San Francisco, and L.A., who'll now find that they have a dedicated grocery-delivery category on the app.
It relies on partnerships with independent grocers like New York's East Village Farm. But the delivery-time guarantee is what's most ambitious: to your doorstep in an unheard-of 30 minutes. That's an entire 1.5 hours faster than Amazon or Instacart can manage right now. If that weren't masochistic enough, Postmates claims it (or rather, its couriers) will do this on the cheap: The delivery fee is described as just $3.99 per order, regardless of whether it's for a single banana, or 24 grocery bags for a banquet feast. You can also opt for unlimited deliveries for $9.99 a month. (By comparison, AmazonFresh costs $15 each month, on top of your Prime membership.)
How Postmates will do this is left unexplained, but it probably helps right now that there are only about 250 Fresh items you can purchase. Postmates says it plans to add another thousand in the coming months, and expects to expand the service to more cities once it sees how the first three perform.