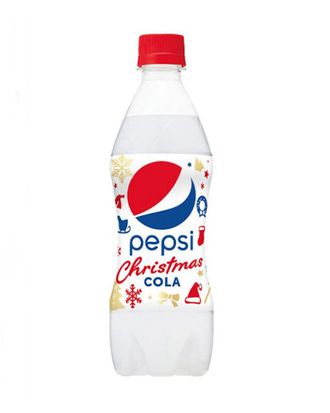 Could totally trick Santa with this.
It's still too early to hawk anything holiday-themed, but nobody can blame Pepsi for jumping the gun after inventing this festive Christmas Cola concoction. It's a soda that tastes like cake and comes in the cheerful white color pictured on the left — almost like if you licked the red stripes off a candy cane and melted the stick. Only there's no mint: Pepsi's press release describes the flavor as "reminiscent" of tart strawberries and creamy cake.
It's a limited holiday offering, and is also exclusive to Japan — Japan because (1) it's not so weird over there, and (2) because the Japanese traditionally celebrate Christmas by eating a special strawberry shortcake that's covered in whipped cream.
Pepsi's soda actually appears to be a pretty faithful re-creation:
Authenticity notwithstanding, consider soda that can be confused for iced milk a solid new addition to Pepsi's WTF file, next to cinnamon-flavored Fire. It goes on sale November 21.