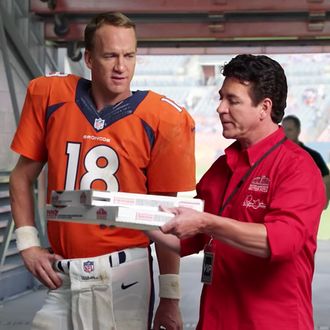 "Can we still be friends, Peyton?"
Photo: Papa John's
Peyton Manning soul mate John Schnatter has offered up yet another excuse for why Papa John's can't seem to sell more pizzas. Unfortunately, it's the excuse he's tried at least two times before, only this time injected with some dog-whistle racism. He lashed out at NFL commissioner Roger Goodell today on a call with investors, saying that "NFL leadership has hurt Papa John's shareholders" by "not resolving the current debacle" — that is, of football players kneeling during the national anthem. "Leadership starts at the top, and this is an example of poor leadership," he added, to make it extra clear whose fault he thinks this is.
Papa John's has been the NFL's official sponsor since 2010, and first suggested the league was hurting sales last season. What bad football optics had to do with its unpleasant-tasting pizza was unquantifiable then too, but because anger at the NFL has only increased, Schnatter may have been hoping to find a more sympathetic audience. Investors either disagreed or didn't care: News of floundering sales reportedly drained $70 million of Schnatter's net worth in a matter of hours.
The thing is, right now the NFL's viewership is down by about 5 percent. Not great, but it's actually much better than the attrition was in 2016 — an inconvenient fact, you could argue, for Papa John's. Through week seven, games are averaging 770,000 fewer viewers than in 2016, but they were averaging 2.5 million fewer by this point last year. This means Papa John's stock is plummeting disproportionately: It's down 24 percent this year. Domino's stock for 2017 is actually up by 12 percent.
Schnatter's position seems to be far less nuanced: Bloomberg News says the league's name "came up 44 times" during his call today — roughly equal to its mentions for the previous seven quarters combined. Schnatter also announced they planned to respond by pulling some of their NFL advertising.
However, he didn't quite find the sympathetic audience he was looking for: