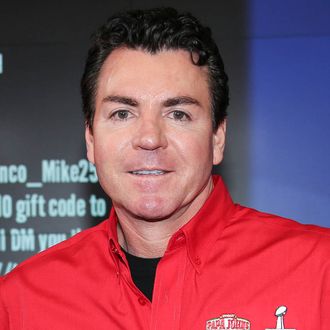 John Schnatter still hasn't personally addressed his comments.
Photo: Rob Kim/Getty Images
After two weeks surveying the damage, Papa John's is formally apologizing to anyone who considered its comments about NFL protests hurting pizza sales "divisive." CEO John Schnatter told investors back on November 1 that "the NFL and its leadership" were to blame for the chain's past bad quarter. That sounded about right to leading neo-Nazi site Daily Stormer, which declared Papa John's the "official pizza of the alt-right," but otherwise the chain's reputation got a bit of a clobbering — even after it "condemn[ed] racism in all forms."
Its bum rap apparently convinced the chain to try harder last night, when it tweeted an apology with more meat on its bones, and also a middle-finger emoji:
The part about believing that players have "the right to protest inequality" and that Americans "should honor our national anthem" is certainly a more tasteful way of putting CEO John Schnatter's original diatribe ("this is an example of poor leadership" and "the NFL has hurt us").
Still, assuming the 5,000-plus comments on those three tweets are an indication, people aren't keen on placing Papa John's orders tonight:
The pizza chain's stock has fallen by almost 13 percent since Schnatter blamed their bad sales on the NFL.