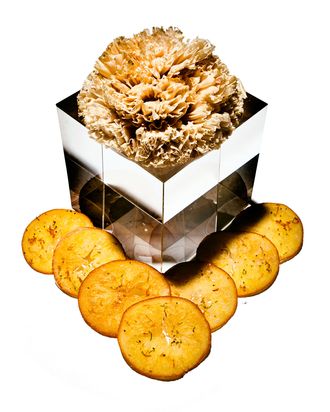 The Pool's foie gras "ribbons."
Photo: Bobby Doherty/New York Magazine
"The Grill feels like a country club, and this feels like a cruise ship," observed one of the diners in our party as we settled down to dinner at the Major Food Group's latest Seagram Building production, the Pool. The cruise-ship analogy probably works best when you take all of the dining options in the grand, $32 million complex into account (the Grill opened this spring, the Lobster Club mega sushi concept is slated to open this week), but my guest had a point. Our table sat next to the pool itself, which is rimmed with marble and lit from below like a giant chilled Jacuzzi with the bubbles turned off. In keeping with the restaurant's nautical theme, the carpet is a soothing aqua blue, and as we ordered our brightly colored tiki-style cocktails (many have fruit names, like Watermelon, Mango, and Peach), the piped-in sounds of Bob Marley echoed around the cathedral-size room.
Not that anyone at the table was complaining too bitterly, especially in an era when the city's restaurant landscape is littered with increasingly tiny, cacophonic spaces where a $25 lobster roll passes for a decent seafood dinner. Like all the lavish dining options aboard the newly overhauled good ship Seagram, no expense has been spared in the generally tasteful makeover of the venerable old Four Seasons Pool Room space, which has clearly been designed as the more contemplative yin to the Grill's rambunctious yang. Unlike across the hall, there's a minimum of frenetic table-trolley traffic here, and the raucous bar crowd is sequestered up a low flight of stairs, beyond the dining room, in the stately Pool Lounge. The tables are spacious and set far apart, and the great potted trees that used to clutter the old room have been cleared away and replaced with a great Calder mobile that twirls soothingly overhead.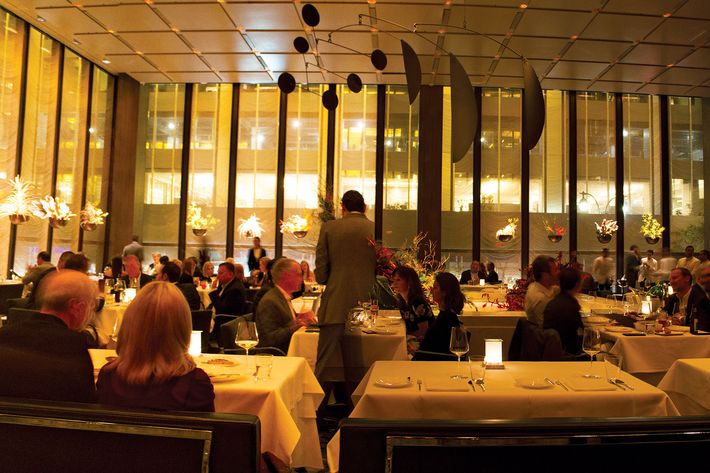 Of course, there's a fine balance between soothing and a little sleepy, and my dinners at the Pool managed to be a bit of both. The mostly seafood menu is overseen by Rich Torrisi (his partner Mario Carbone runs the Grill), and although it's filled with well-executed dishes, there's not a lot that a deep-pocketed big-city gourmand (or luxury-cruise connoisseur) hasn't seen before. There's an elaborate caviar service available with your wine-ordering portion of the meal (you can supplement the precious grams of Golden Imperial Osetra with less-pricey sea urchin or trout roe), and modest-choice raw-fish crudo, set out (yes, like on a cruise ship) on round glass plates. There are oysters on heaps of ice, too (from the East Coast only), and a selection of sliced "toasts" piled with reliably delicious ingredients like yellowfin-tuna tartare, and more fresh uni, which the kitchen touches with mustard and a hint of apples.
I could have spent a pleasurable evening subsisting on these retro hors d'oeuvre (if you have $32 handy, try the decorative, much-Instagrammed foie gras "ribbons" shaped like a chrysanthemum, or maybe a sea sponge), but duty compelled our little band of tasters to press on to other, slightly more prosaic regions of the menu. A decent example of that old warhorse, tuna carpaccio, showed among the first salvo of appetizers, along with well-grilled octopus tentacle, pulverized in the familiar Mediterranean way, with a squirt of ají-dulce-pepper sauce on the side. The barely cooled lobster tail was described by one guest as "Canyon Ranch food," however, so get the chewy, gently charred beet mille feuille if you're in a slimming mood; if you're not, call for the buttery Dungeness-­crab rice, which is filled in the traditional, umami-rich Major Food Group style with all sorts of forbidden pleasures.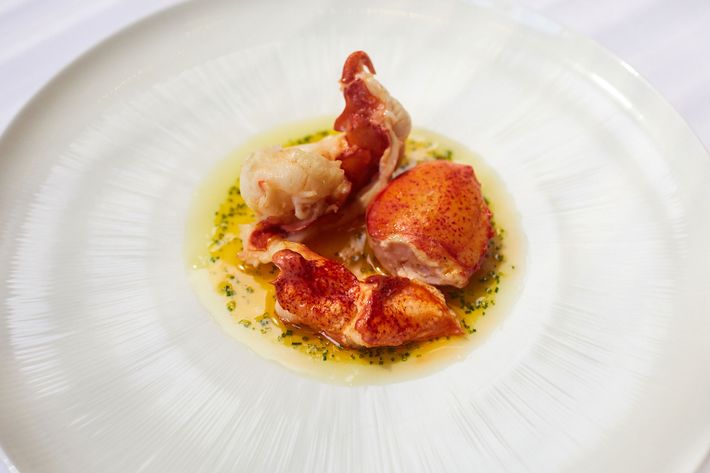 The delicate art of highbrow seafood cooking is something of a lost art these days, especially among the generation of cooks like Carbone and Torrisi who came of age during the amped-up, post-­gourmet era of pork chops and burger bars. The special alchemy of texture, temperature, and taste practiced at the great seafood palaces isn't easy to perfect, and although most of the entrées here work well enough (there are only eight), moments of magic are few. My Dover sole had a slightly tough, bouncy quality to it, and the lobster was fresh and well cooked but overwhelmed, in high cruise-ship style, by an awful lot of coconut. For just-caught freshness, call for one of the ­market-price whole fish (ours was a red snapper for $98), and for a taste of that old-fashioned seafood alchemy, I recommend the block of soft, ivory-white halibut, which is poured with a fennel emulsion speckled with fresh cockles.
Creations like these aren't quite enough to dispel the sense you had at the old Pool Room that the proprietors have thrown most of their energies into the operation across the hall and are trying to fill this giant, placid space any way they can. As our entrées were cleared away, a private event in the Pool Lounge was ending, and revelers came tottering down the steps with their corporate party bags. A member of the courteous staff appeared, more or less on cue, to sing the praises of the ridiculously pricey "Château d'Yquem Collection," which most of us can only ogle, like exotic fish, in a display out in the hall. When the desserts arrived, the best of them — Meyer-lemon cream encased in a powdery meringue, a pale tower of yogurt ice cream — had a pleasing, tropical lightness that, like most everything about this pleasant, innocuous restaurant, fades almost immediately from memory once it's gone.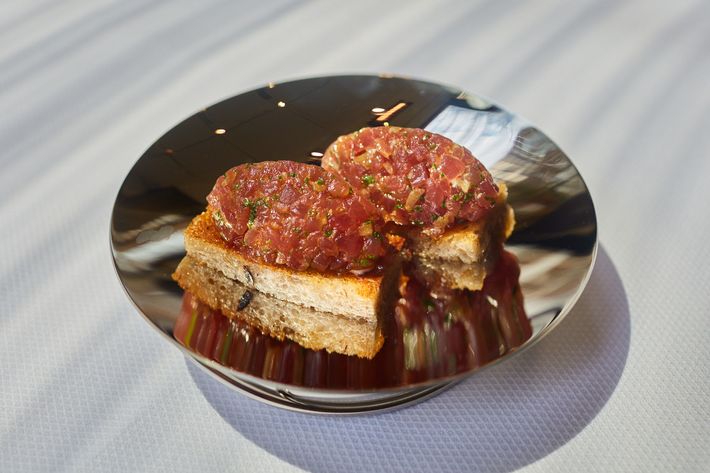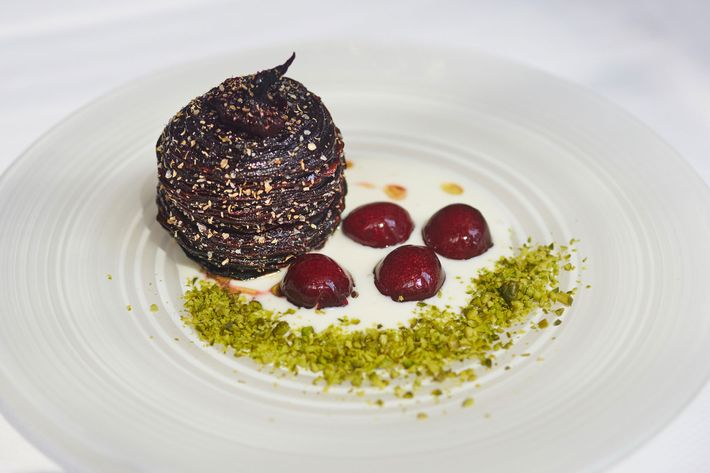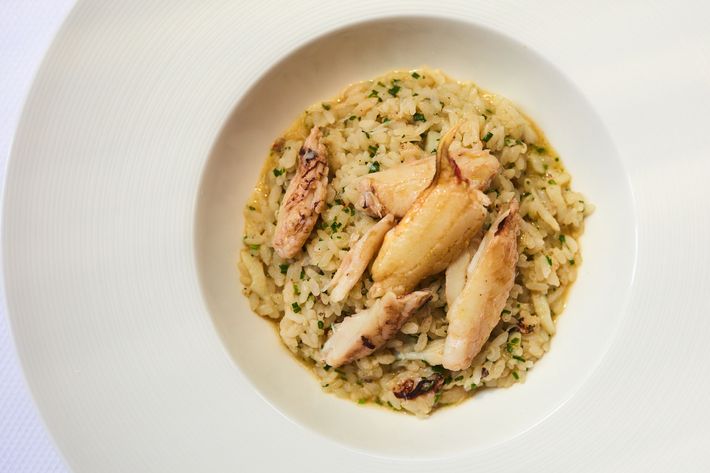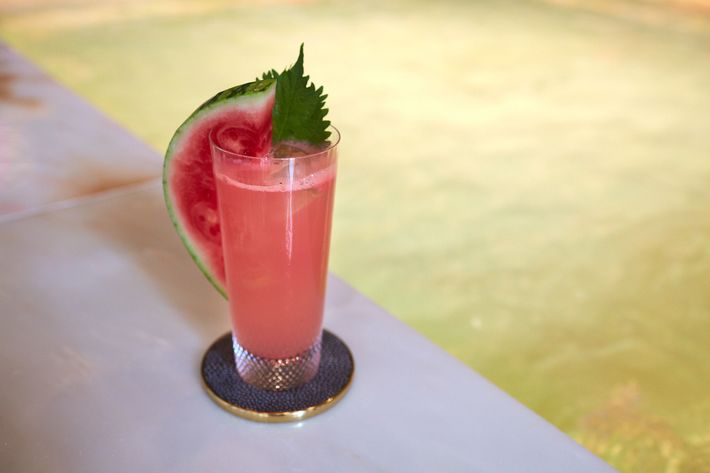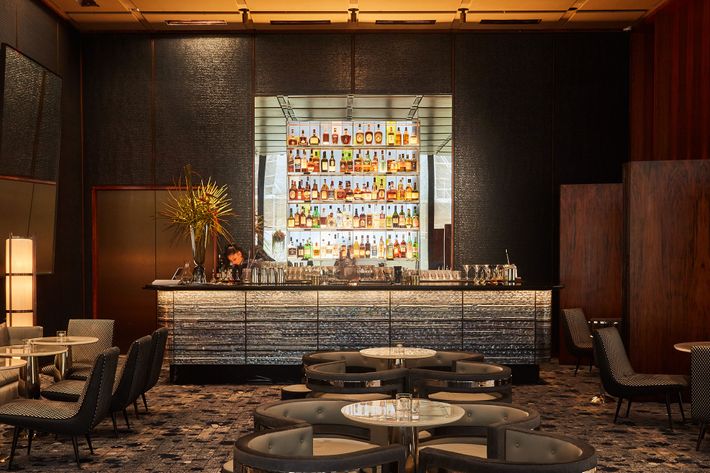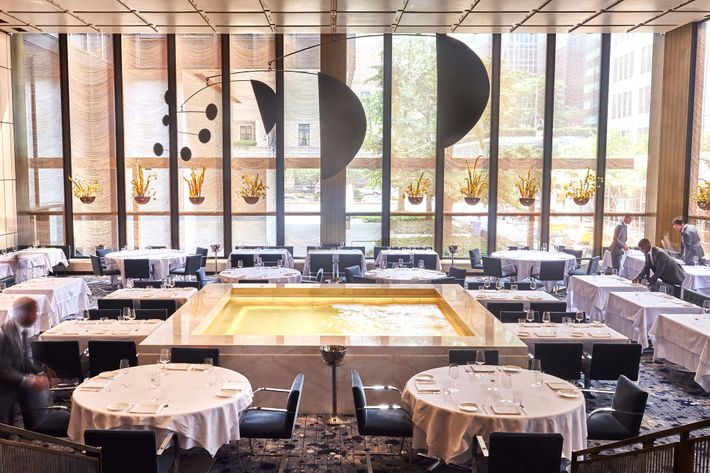 The Pool
99 E. 52nd St., nr. Park Ave. 212-375-9001; thepoolnewyork.com
Open: Dinner Monday to Saturday
Prices: Appetizers, $22 to $42; entrees, $39 to $65.
Ideal Meal: Ribbons of foie gras, seafood toasts, Dungeness-crab rice, Alaska halibut, frozen yogurt or Meyer-lemon meringue.
Note: For maximum cruise-ship quietude, agitate for a table on the west side of the room, away from the pool.
Scratchpad: One star for the grand setting and another for the best of the radically pricey expense-account fare.
*This article appears in the November 13, 2017, issue of New York Magazine.