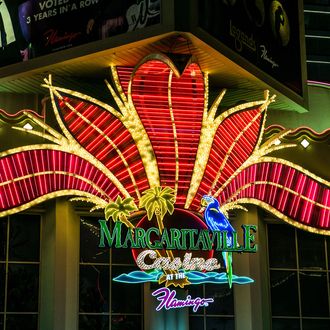 Wasted away again.
Photo: George Rose/Getty Images
If your "cheeseburger in paradise" involves patronizing a Times Square restaurant built around a single Jimmy Buffett song, then here is some fantastic news: Margaritaville's would-be landlord may have killed that fantasy last January when giving CVS Pharmacy one of the burger chain's floors in the Brill Building, but the Real Deal reports today that the "dream is not over" just yet. It seems that two New York real-estate firms (Soho Properties and MHP Real Estate Services) are in "late-stage negotiations" not only to still bring the island-themed empire's quesadillas and margs to midtown, but to blow the concept out into an entire 29-story tropical-themed hotel.
The site they're eyeing now — 560 Seventh Avenue, formerly slated to become a Dream Hotel — would be the perfect spot to grab a low-key bite after the Escape to Margaritaville matinee on Broadway, enjoy half a glass of wine, then turn in early for bed. Sources tell the website that the developers have secured a $180 million loan for the project; they'll reportedly be in possession of that money by year's end. Nothing's a done deal yet, and the hotel's exact size "was not immediately clear," but the blog says please don't be surprised if 120,000 square feet of space dedicated to the "lyrics and lifestyle of Jimmy Buffett" take over the corner of 40th Street and Seventh Avenue.