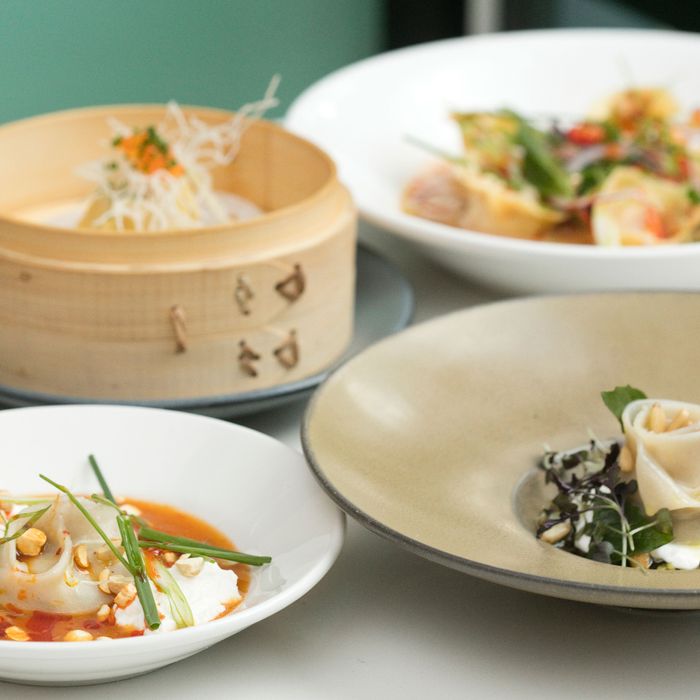 Bar Glory's pumpkin-and-lamb manti upfront, with shrimp siu mai in the back.
Photo: Melissa Hom
Even mediocre dumplings are better than 99 percent of all other foods. Luckily, in New York, there are plenty of great options that go well beyond your usual pork-and-chive potstickers. (Not that there's anything wrong with eating those over and over.) Here, chefs are always making new and interesting versions: manti stuffed with lamb and pistachio pesto, pho turned into soup dumplings, and more. Here, 12 new ones to eat.
Pumpkin-and-Lamb Manti
Where: Bar Glory
How Much: $4 each
This sister restaurant to Glasserie picks up bits and pieces from cuisines along the Silk Road, as in the manti. There are plump ones served individually and already sauced, or stuffed manti with smooth pumpkin enriched by apricot sausage or more substantial lamb.
Shrimp-Crab Gyoza
Where: Sen Sakana
How Much: $15
The high-end Nikkei, or Japanese-Peruvian, restaurant serves gyoza stuffed with two kinds of shellfish (shrimp and crab) and lime ponzu, cilantro, and cancha (toasted corn).
BEC Dumpling
Where: Pinch Chinese
How Much: $12
What is a trendy New York restaurant these days without an everything-spice this, or a bacon-egg-and-cheese that? During brunch only, this soup-dumpling specialist serves pan-fried dumplings stuffed with the breakfast trio and with a side of Sriracha.
Short Rib Turkish Manti
Where: Celestine
How Much: $17
Need views with your manti? The waterfront Mediterranean restaurant stuffs its version with short rib and serves them with fenugreek, yogurt, garlic, and mustard greens.
Pork Soup Dumplings
Where: Nom Wah Tu
How Much: $6.5
Soup dumplings are like little pouches of warmth during the winter, and Jonathan Wu has rounded out his short but sweet dumpling menu with a version of the Shanghai snack topped with porcini-duck sauce.
Abalone Siu Mai
Where: Dim Sum VIP
How Much: $5.95
Service can be helter-skelter when it gets busy at this sliver of a har gow house, where you can get big siu mai crowned with rounds of abalone.
Pho Soup Dumpling
Where: Rice & Gold
How Much: $16
The rule is "don't fix what's not broken," and soup dumplings need no tweaking or elevating. But Dale Talde subbed out the standard pork for a pho base that's served with holy basil, shaved onion, and pickled onion, and no one's going to complain.
Pan-Fried Dumplings
Where: Hwa Yuan
How Much: $10
A meal at the palatial Chinatown restaurant will probably be an event, but there's no reason not to start with something simple and classic like good, crispy pan-fried dumplings.
Crispy Manti
Where: Nargis Cafe
How Much: $9
You used to have to trek to Sheepshead Bay to this excellent Uzbek restaurant, not a quick trip if you don't live nearby. The restaurant has opened a second outpost in Park Slope, serving a full assortment of its dumplings, including its chuchvara with caramelized onions, and crispy, meat-stuffed manti.
Lasagna Ravioli
Where: Raviolo
How Much: $8
The dough is what's used for pasta but shaped more like dumplings, and the fillings are all Italian, like the meaty lasagna-style ragù topped with Parmesan and accompanied by bechamel.
Vindaloo Momo
Where: aRoqa
How Much: $12
The creative Indian restaurant takes ultra-juicy momo and spins them with a pork filling, bacon crumble, and a spike of vindaloo sauce.
Syrian Fish Kubeh
Where: Kubeh
How Much: $15
The Levantine dumplings served at this West Village spot are particularly nourishing this time of year. Get yours filled with Syrian fish (wild cod, cilantro, tomato, and cumin) and stained purple by the Selek beet broth.