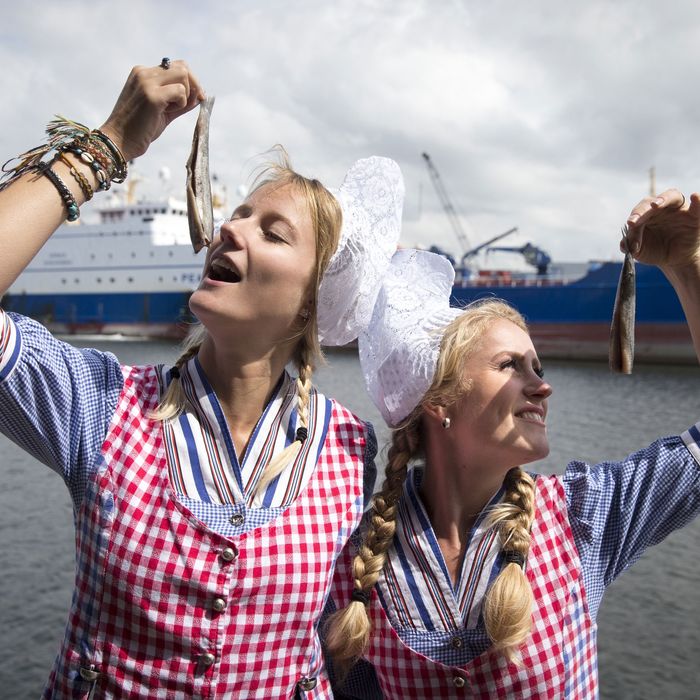 More innocent times.
Photo: Jerry Lampen/AFP/Getty Images
Herring might as well be sanctified in northern Europe. Each country has its own particular way of consuming the fish, and there are entire festivals dedicated to it from Alfta, Sweden, to Helsinki, Finland, where the October herring market is believed to have been held for over 270 years. But there's trouble in Herringtown: This month, damning accusations were levied against the Netherlands' annual national herring test.
Sponsored by the newspaper Algemeen Dagblad, the test involves two purported experts who rate the goods of hundreds of herring sellers around the Netherlands. When Tilburg University economist Ben Vollaard saw that a local shop got a zero, he started asking questions. The Economist reports that Vollaard says the merchant at said shop told him that one judge practices unfair favoritism, giving higher scores to fishmongers who procure their herring from a particular distributor, the Atlantic Group. As it turns out, that judge also works as a consultant for the company.
You might say Vollaard could smell that something was off, and it wasn't spoiled herring. It was the judge's apparent dereliction of duty. As he told The Economist, "I saw how much damage a low rating could do. The judges act like God." Vollaard went on to contact 85 percent of shops surveyed over the last two years to ask who they use as distributors. He found that while the average score was 5.5, shops supplied by Atlantic far outswam others with an average score of 8.7. That advantage came from subjective ratings like taste and appearance.
The judge and Atlantic say Vollaard's claims are bunk, and that those shops with higher scores simply had better fish. Now, however, two shops have vowed to sue Algemeen Dagblad for defamation. It is yet to be seen, however, if the Netherlands' faith in Big Herring can be restored.