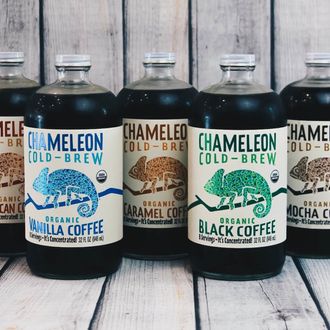 Preparing to "grow into new markets and channels."
Photo: Chameleon Cold-Brew
Chameleon Cold-Brew says today that it's been bought by Nestlé, making millennials' patron saint of bottled coffee part of Earth's biggest food company, right alongside Blue Bottle, which Nestlé acquired for half a billion dollars in September. Reuters reports that terms of the deal weren't released, but assume Chameleon's owners made out pretty well: The company — America's oldest and largest purveyor of organic cold brew — has posted explosive growth numbers in recent years. It also has a fun color-changing lizard as a mascot and uses 100 percent recycled packaging in its products, so in some ways, Chameleon is a $16 billion–poorer version of what Nescafé aspires to be. Nestlé has been trying to wade more into "cool" brands to bolster sales, and indie coffee companies are must-haves right now. Before swallowing Blue Bottle up, the food giant had little more than Nespresso pods and the world's largest supply of instant coffee on offer.
Now, however, it will own a top player in ready-to-drink coffee that's grown 2,500 percent in the last three years. Chameleon's CEO Chris Campbell says they'll retain independence, even extending to payroll and benefits. "Our intent here is to come out of this as the case study for how a big company can successfully acquire, integrate, and both add and collect value from this kind of situation," he told Bloomberg News. "It'll take us awhile to see if it's true or not, but we're working on it."
Besides five flavors of cold brew, Chameleon's products have expanded to include brew kits, gallon-size bags of concentrate you dilute at home, and even a line of whole-bean coffees. Maybe crazier than the actual rate of growth is how diversified it's been: Retail space at Target and Albertsons certainly helped, but few brands, no matter what they make, are the cross-demographic sweet spot that Chameleon is. Its products are on the aisles of retailers like Whole Foods to Safeway, online on Amazon and seemingly at most bodegas, and even turn up in strange places like Bed Bath and Beyond.