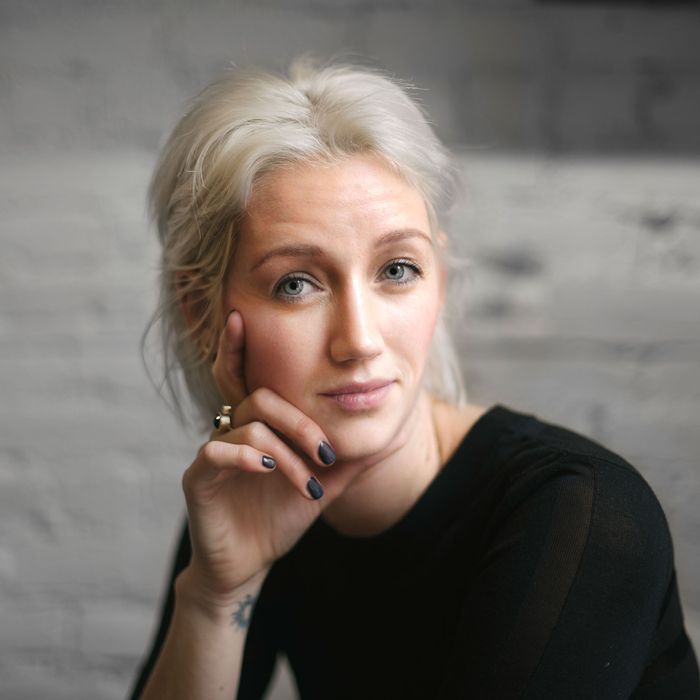 Nadine Redzepi is the author of
Downtime
,
a new cookbook.
Photo: M Cooper
Nadine Levy Redzepi had no intention of ever writing a cookbook. Or working at Noma.
When she became pregnant with her first of three daughters, who's now 9, Nadine started recording her recipes to pass them down, privately, within her family. Her husband, René Redzepi — the owner of Noma in Copenhagen, and one of the most innovative and celebrated fine-dining chefs in the world — encouraged her to share them widely. "I said, 'No, I don't think so,'" she recalls. "Like, That's you're thing. You do that."
But her passion for cooking long precedes her time at Noma and relationship with René. Nadine was born in Portugal and raised in Denmark by a single mom who worked nights. "I started on my knees on a chair at the stove, making porridge, when I was 6," she says. "But the first big thing I cooked was roast chicken. That was a major moment: This is my chicken; I made this chicken." As a teenager, Nadine decided she wanted to become a chef, but a school career day spent in a professional kitchen quickly changed her mind. "I realized eventually that I wanted to sit down and eat all the things that I made — not just make it for others," she says. And then, when she was 19, she answered a fated call from an unknown number.
"There was some Swedish guy on the phone, saying, 'Can you come work at our restaurant?' Blah, blah, blah," she says. "I was like, 'What? Who are you?'" The restaurant, of course, was Noma, which was then only about a year old. After a server had called in sick, a friend recommended Nadine, but failed to tell her ahead of time. Still, Nadine said yes. "I remember all of a sudden feeling slightly nervous when I went to the door," she says. "Like, Oh, that looks very fancy. I don't know if I fit in here at all." She stayed on as a server, and a few weeks later, she and René started dating.
With the publication of her first cookbook, Downtime, Nadine is embracing a style of food that's more comforting, quick, and casual than the kind of technical cooking you'd find in a restaurant. (Later, after briefly working for a Danish clothing brand, Nadine transitioned to working in Noma's office, overseeing reservations.) The Noma cookbook includes a recipe for "Pork Neck and Bulrushes, Violets and Malt"; Downtime celebrates Portuguese pork chops and rice, made with just five ingredients — none of which are foraged.
While Nadine credits René and Noma for offering inspiration, her style of cooking is simpler; the book includes recipes for lasagna with sausage meatballs, tonkatsu chicken, and a Do-It-All Cake. "I do feel that at the moment, I am a better home cook than he is," she says. "I'm not against sous-vide and all those things, but I don't use it at home. Probably the most techy piece of equipment that we have is an ice-cream machine."
Working at such a singular restaurant (and being married to the chef) could easily make any home cook strive for perfection, but Nadine neither feels nor conveys that pressure. She wrote the book as if she were instructing her cousin, a total novice in the kitchen. "I tried to envision everything that could go wrong for her," she says. "Don't worry if that happens; do this. Or, If you get to this point, then you need to start over; you've ruined it." Downtime reads as encouraging, but not infantilizing. A recipe for Brussels sprouts earnestly ends, "Congratulations: You can make beurre blanc." The headnotes for a hot-pink "Giant Macaron Cake" assuage, "Don't worry if there are cracks, it will still taste great."
Nadine didn't even show René the book until they were in Tulum this spring for Noma's Mexico pop-up, and she had the proofs in hand. "I had this idea of how I wanted the book to be, so I didn't want to involve him in anything," she says. "I knew I would lean toward listening to him, and I would maybe lose my own idea of how I wanted it to be. When Nadine finally did share it, she announced, "If you don't like it, too bad!"
After over a decade of their careers being intertwined, she says, "I was incredibly excited to do this by myself."