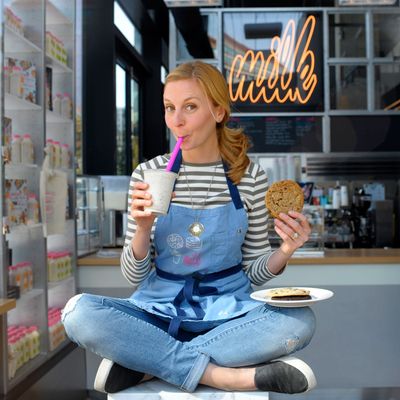 Real question is: How does Snoop Dogg feel about Cereal Milk?
Photo: Katherine Frey/The Washington Post/Getty Images
Milk Bar has welcomed its first-ever outside investors, after nine years in the immensely popular Crack Pie business. Christina Tosi's cult chain — which has grown from the original East Village outpost to 12 spots spread across four cities and two countries — just closed on a Series A funding round, and while Milk Bar isn't revealing a precise amount, The Wall Street Journal hears it was an "an eight-figure investment."
The money also all came entirely from one source — RSE Ventures — giving it a "significant minority interest in the company." Milk Bar plans to put that capital toward launching in new markets, which Tosi assures Fortune will be done in a "thoughtful and individualist way." (New York, D.C., Vegas, and Toronto are it for locations right now.)
RSE is also an investor in the reservation app Resy and trendy fast-casual pizzeria chain &pizza, but it's otherwise mostly a sports-focused fund. The fund conveniently also just invested in Momofuku Holdings — David Chang's restaurant group where Tosi got her start. RSE is also co-run by Stephen Ross, the founder of the $50 billion real-estate firm Related Companies. Related is the Hudson Yards developer, it owns Equinox Fitness, and it has done major projects in tons of international cities like São Paulo, Shanghai, and London. That expertise can't hurt if Milk Bar wants to "strategiz[e] how to reach" overseas fans, as a rep tells the Journal.
RSE's other co-founder, Miami Dolphins vice chairman Mike Higgins, tells Fortune they'd like to position Milk Bar more as a "lifestyle brand." This might mean partnering with other retailers besides Target to sell packaged mixes, pushing the new proprietary coffee line, and creating more branded merch. He tells the magazine their money represents a "tremendous opportunity" for Tosi to achieve her potential as "Martha Stewart for this generation."