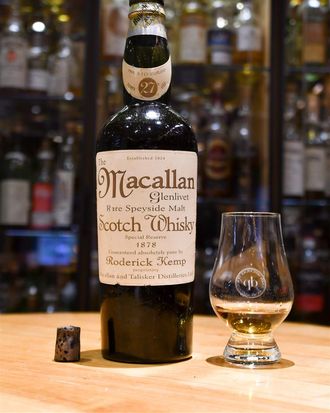 It does look old.
Photo: Sandro Bernasconi/Hotel Waldhaus am See
A Chinese multimillionaire who paid more than $10,000 for a glass of 139-year-old whiskey got served a glass full of baloney. Zhang Wei, one of China's most popular authors, was vacationing in St. Moritz with his grandma, and they swung by their fancy resort bar, which happened to be Devil's Place at the Waldhaus am See hotel, which claims its whiskey collection (over 2,500 bottles) is more comprehensive than any bar in the world.
Zhang's gaze quickly settled on an unopened bottle of Macallan single malt from 1878. He wanted it, and decided "to splurge" (this was vacation, and he reportedly makes $16 million a year), later explaining that he felt especially drawn to this particular Macallan — because 1878 was the year his great-great-grandmother was born, and presumably also because it'd be a serious status symbol. He ordered one glass for 9,999 Swiss francs (about $10,500), a pour Decanter has dubbed "the world's most expensive scotch."
Hotel manager Sandro Bernasconi poured himself a glass, too, because why not? Both were underwhelmed. Zhang later blogged that it "had a good taste," but online followers began pointing out that the bottle looked bogus. Eventually, someone called up the hotel. Bernasconi hired a consultancy that does valuations of whiskeys to test the bottle. Experts did some carbon-dating; results showed it was probably from the '70s. "The bottle, the label, the cork, and the whisky were all counterfeit," the company's co-founder told Britain's Times. The Scotch ended up being a blend of probably 60 percent malt and 40 percent grain — not a single malt, either, in other words. Crushed, Bernasconi says his dad bought that bottle 25 years ago when he was the hotel's manager. He calls the whole scam "a big shock to the system."
Bernasconi not only refunded the man's money as "a gesture of goodwill," but apparently flew all the way to China so he could do it in person.