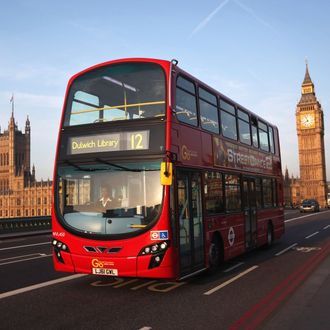 It takes its coffee black.
Photo: Dan Kitwood/Getty Images
Londoners' coffee obsession could soon be fueling a third of the city's buses. A company called Bio-Bean has found a way to power one of the world's busiest transit systems with spent coffee grounds. With some help from Shell, the company has so far produced enough coffee-derived biofuel to run one double-decker bus for a full year. It's a so-called B20 biofuel (20 percent biodiesel, 80 percent petroleum diesel) that Bio-Bean makes by collecting the used grounds, extracting the oil, and blending that with regular diesel. Founder Arthur Kay tells the Independent that coffee actually has very high oil content — 20 percent by weight — so "it's a really great thing to make biodiesel out of."
Bio-Bean says it's built a plant that can recycle 55,000 tons of coffee waste a year, and is partnering with two of London's biggest coffee chains, Costa Coffee and Caffe Nero, to collect their used grounds. It will also get waste from instant coffee factories.
The city consumes 2o million cups of coffee per day, producing some 220,000 tons of waste each year. Bio-Bean says that's enough to theoretically power one third of the city's bus network, and that 2.5 million cups make around 6,000 liters of oil — or about a year's worth of sustainable fuel for one London bus. Lots of the city's 9,500 buses already run on biofuel derived from food waste, specifically cooking oil and beef tallow, and London's mayor Sadiq Khan has set an even more ambitious goal of creating a zero-emission transit system for the entire city by 2050.