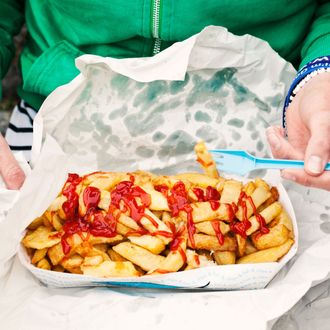 It's spinach salads from now on.
Photo: Sally Anscombe/Getty Images
Life's about to get tougher for London teens who want to sneak off campus and grab a Burger King Long Chili Cheese. The Evening Standard reports that in an effort to "tackle the capital's child obesity epidemic," Mayor Sadiq Khan has decided to put the kibosh on new fast-food restaurants opening within 400 meters of city schools. Any "takeaways," as they're called over there, that want to enter this no-burger's-land will have to pledge ahead of time to serve food that meets certain health standards. (Good luck with that, guys.)
The policy — more sweeping and kid-targeted than L.A.'s, which only bars chains from opening in one neighborhood, South L.A. — is part of Khan's changes to the London Plan, which are set to be released later this week. The ban should help London stop the "ticking time bomb" of childhood obesity, he says in the announcement. Almost 40 percent of kids in the city are overweight by the time they finish primary school, the worst rate anywhere in the U.K.
The move won't affect fast-food chains already in operation next door to schools. Which, it turns out, is not a small number: Experts have argued for some time that the number of fast-food restaurants kids pass on their way to class is alarming (there are supposedly 15,000 within a five-minute walk, some 5,000 of which opened in the last decade), even if this so-called "plague" has also become distinctly Londony.
"Takeaway restaurants are a vibrant part of London life," Khan says in defense of his ban, "but it's important that they are not encouraging our children to make poor food choices."