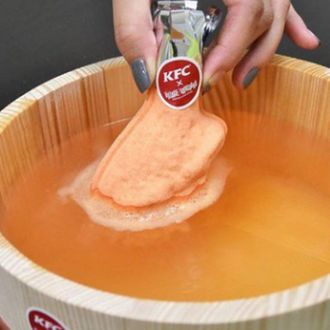 Who knew relaxation could look so greasy.
Photo: KFC
So you're almost out of KFC's edible fingernail polish, and have started wondering what the point of personal grooming is if the Colonel's not involved? Fair! To ensure you maintain at least some level of hygiene, the chicken chain has created a new product: a bath bomb that leaves you, your bathtub, and, possibly, depending on its fragrance level, even your towel smelling like fried chicken. Granted, you'll need to travel to Japan for this, then win a very competitive raffle, but someone who's truly hard core about savory baths won't let these things stand in their way.
The item is a limited-time collaboration with Tokyo's famously strange general store Village Vanguard, the same place that introduced those ramen bath salts that let you soak in hot water like a human-size piece of chashu. This go-round, it's produced a very finite number of chicken-scented bath powders for KFC that are shaped like a drumstick.
KFC is giving 100 of them away every day until November 22. To score one (the reasons why can be your own), you have to retweet the current day's version of the above Twitter post. Alongside the bath product, winners also get a coupon for a "Secret Combination Pack" of popular menu items that will offer them the extra perk of being able to bathe immediately after eating without first washing their hands.