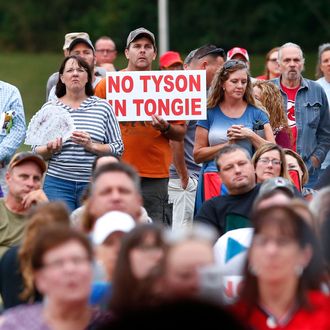 The sentiment seems pretty clear.
Photo: Chris Neal/AP
Tyson Foods pollutes more U.S. waterways than Exxon. Few Americans know this, but the ones likeliest to — farmers — are increasingly rebelling against the idea of having its smelly, potentially toxic plants in their communities. The Wall Street Journal dives into the biggest recent showdown, which occurred this fall, when Tyson pitched its first new chicken-processing facility in 20 years.
After much thought, the poultry giant picked Tonganoxie, a town located in Leavenworth, a major Kansas farming county, and made the locals some nice promises: The new plant would bring 1,600 jobs to the area, it would be a $150 million boon to the state's economy, and it would provide struggling local farmers an easy way to sell grain, because Tyson's birds would need 12 million bushels a year.
Residents said no thanks, swarming City Council board meetings by the hundreds, protesting in newspapers, and writing Leavenworth County commissioner Robert Holland "so many angry letters that his mailbox wouldn't shut." Plus, "He said he found dead chickens hurled onto his lawn and had photos of mangled birds mailed to his home."
The public outcry came to a head in September, during a countywide referendum on the $500 million worth of incentives it had offered Tyson. Every county commissioner but one voted no, and Tyson said au revoir.