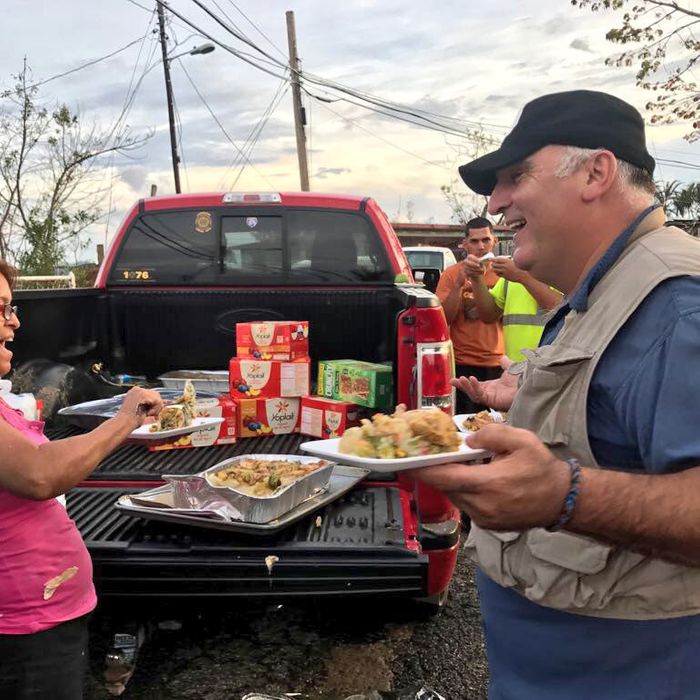 The chef happily at work without FEMA's help.
Photo: World Central Kitchen
By now, José Andrés has graduated to biggest FEMA detractor since Kanye West recorded his "Flashing Lights" diss track. Andrés's World Central Kitchen fed over 2 million hungry Puerto Ricans in Hurricane Maria's aftermath — almost two-thirds of the population — and all he's credited FEMA with is getting in the way.
This talk is from a presentation he did last month, but TED is just now posting it on Facebook. Their policy disagreements are no secret, but he says (around the six-minute mark) that during one particularly eventful FEMA visit, "They kicked me out with eight armored guards and AK-47s."
He says that, early on, officials only seemed interested in distributing food "right now," not brainstorming a longer-term strategy. He also believes they foolishly dismissed private businesses in Puerto Rico — a fatal error, in his mind. They'd tell him the island had no infrastructure or system in place for food deliveries, but he argues that was lunacy: "Sure, we had the system. The entire island of Puerto Rico was the perfect delivery system. Anybody with a truck wanted to help. Anybody going from point A to B was, for us, a way to bring a plate and a hot meal to anybody."
He drafted food trucks to the cause and borrowed or rented helicopters and airplanes, all while continually opening kitchens (maxing out at 18). He half-jokes that his home base in the kitchen of San Juan's biggest stadium became "the biggest restaurant in the world," serving nearly 70,000 meals a day, which he again contrasts with FEMA's love for "planning and meeting in a very big building."
At the end, Andrés gives a shout-out to the 7,000 volunteers and other aid groups that pitched in to help — Mercy Corps, other Homeland Security offices besides FEMA — but his federal nemesis gets a final parting shot: He adds this network of partnerships didn't happen by "calling the top. They happened in the hotel room, they happened in the middle of the street, they happened in the middle of the mountains."