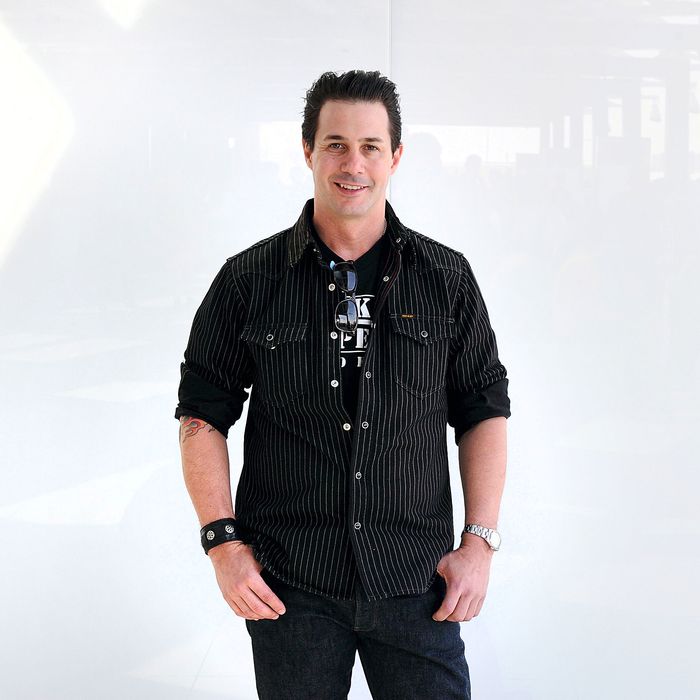 Former Jean Georges pastry chef Johnny Iuzzini has been accused of sexual harassment and more by four former employees.
Photo: Pier Marco Tacca/Getty Images
Star pastry chef turned food television personality Johnny Iuzzini has been accused of sexual harassment by four former employees. The incidents, reported by Mic, allegedly occurred during Iuzzini's time at Jean-Georges Vongerichten's flagship restaurant, Jean Georges. They were shared with writer Rachel Tepper Paley by two pastry chefs and two externs who worked under him from 2009 to 2011. All requested anonymity, one because of Iuzzini's influence and another out of fear of retribution.
Iuzzini left Jean Georges in November 2011, reportedly on good terms. Since then, he has made a career on television shows like Top Chef: Just Desserts, Chopped Desserts, The Great Holiday Baking Show, and more. Earlier this year, he opened a chocolate factory.
All four women describe a work environment beset by sexaul harassment. One pastry chef alleges that Iuzzini stuck his tongue in her ear on several occasions in 2011, causing her to cry each time. She says she resigned later that year, she tells Mic, "because of the way he treated me." The other pastry chef shared a story in which Iuzzini allegedly followed her into the walk-in fridge, where he simulated sex and touched her hips. Iuzzini also allegedly touched women's behinds inappropriately with kitchen items like knives, long vegetables, and spoons. The second pastry chef said to Mic of those incidents, "It was a big, huge joke to him."
Iuzzini is also accused of being verbally abusive; hovering right behind women and breathing on their necks; using offensive nicknames like "Kimchee" for an Asian woman; and demanding shoulder massages from some female employees. In a separate allegation, the two pastry chefs say that Iuzzini threw small, empty liquid-nitrogen canisters at a female employee who discovered a freezer had broken. The employee reportedly quit the next day, and told one of the pastry chefs that she feared for her life.
Both pastry chefs say they didn't believe Jean-Georges or his brother Philippe were aware of just how bad Iuzzini's behavior was initially, but Mic's sources say management was by the time the chef resigned. (Iuzzini says he still has a good relationship with his former boss.) The first pastry chef says Philippe asked her if she wanted to report the incidents in 2011, but she declined because she feared Iuzzini would see it.
Iuzzini also allegedly had a sexual relationship with a 19-year-old aspiring pastry chef. When she emailed him about an interview, he asked her to come to his apartment, where she spent the night. She says that she wasn't coerced that night, but has grappled with how the then-36-year-old Iuzzini leveraged his power in their interactions.
While a spokesperson says the restaurant group has had a human-resources department since 2003, and that Philippe was trained to encourage people to come forward, three of the women say they were not aware of any official channels to report incidents. When the New Orleans Times-Picayune reported on John Besh's restaurant group's culture of sexual harassment, it was revealed that his 1,200-person company lacked an HR department. In response to a request from Grub Street, a spokesperson for Jean Georges Restaurants wrote:
Jean Georges and the entire restaurant group is troubled and frankly sickened at the thought that anything like what was described in the article could have occurred in our restaurants. We have long had an anti-harassment policy and reporting procedures in place and all employees have been provided with the policy and been made aware of the reporting mechanisms at the time of hire and again and at various intervals during employment. While we have certainly improved and fine-tuned our HR function over the years we have been committed to the underlining principles since the beginning of our organization. We are proud of our overall track record of responding to employee complaints and concerns when they come up and have certainly taken prompt and appropriate action when circumstances have warranted. Fortunately, to our knowledge they have been few and far between. However, we are distressed that some employees may not have felt comfortable coming forward at the time. It is not and has never been our policy to tolerate the type of behavior described in the article. Whether directed at women or men, yelling, berating, touching, or harassment of any kind is not how we operate our restaurants. Mr. Iuzzini has not been a part of our restaurant group for some time and does not represent our philosophy towards dining and more importantly, to our working environment.
In a statement to Mic, Iuzzini described himself as "shattered and heartbroken" over the allegations, while also describing "many" as "inaccurate." (His statement has been published in full on Mic.) He says he never "meant to hurt people," denies throwing nitrogen canisters at an employee, says he left the restaurant on good terms, and blames his behavior on growing up in the industry's male-dominated bro culture. The pervasiveness of that bro culture in restaurants is no secret — chef Preeti Mistry recently talked to Grub Street about the industry's blindness to abuse — but it's no excuse.