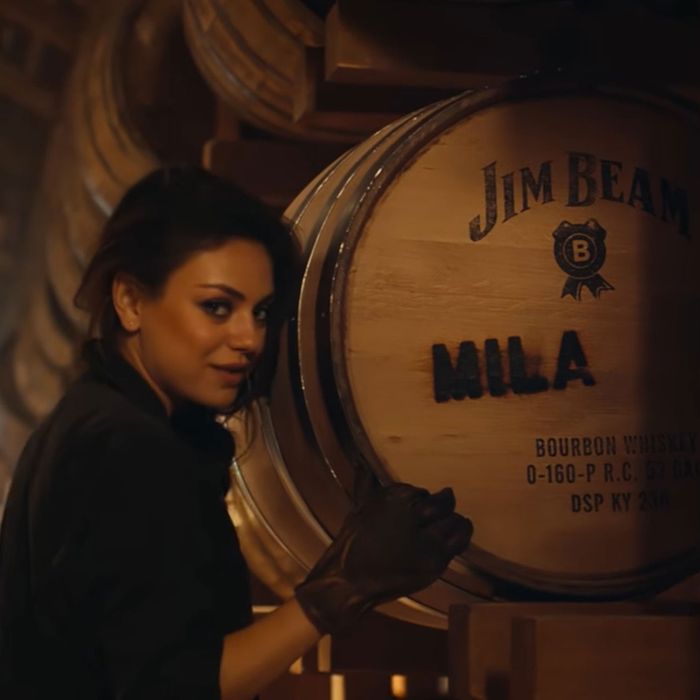 She wanted to remind Pence that "there are women out there" who don't agree with his platform.
Photo: Jim Beam
Unless you can't kick the memory of those bad 2012 Kid Rock ads, most people now recognize Mila Kunis as the face of Jim Beam. (She's in at least 20 videos on the Jim Beam Official YouTube page.) The whiskey-maker probably should've foreseen problems last week when its three-year spokesperson told Conan O'Brien that she donates to Planned Parenthood every month in Mike Pence's name in order to troll the vice-president. The revelation led conservatives to blast Kunis as "a liberal" and "just another Hollywood skank," and suggest thinking up financial penalties for her.
"I apologize if I'm offending anybody," she told O'Brien at the time, calling it "not so much a prank" as her disagreeing with "some of the stuff that Pence was doing." Courtesy of Kunis, every month Pence gets a letter from Planned Parenthood thanking him for "his" recurring donation. The organization has received at least 82,000 other such donations, but they're all anonymous, and so far Kunis is the only person who's revealed hers — which she labeled a "peaceful protest" — while sitting on the Conan couch.
Angry pro-lifers and Pence supporters who saw the clip probably did some quick Googling, discovered Kunis was a "big fan" of Jim Beam, and voilà — their boycott was born.
Some Twitter users even claim that Jim Beam products have gone MIA from liquor-store shelves:
Suntory, Jim Beam's Japanese owner, is now probably as sick and tired of American politics as the rest of us.