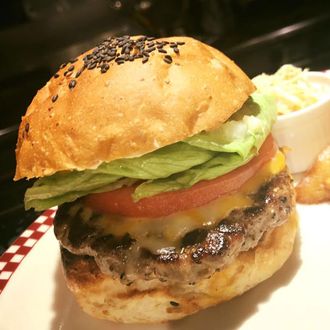 The well-done Trump burger.
Photo: Munch's Burger Shack/Facebook
Donald Trump fittingly kicked off his Asia tour this week by eating a cheeseburger at a golf-course country club in Japan. Word quickly spread that the burger was from a famous burger chain in Tokyo — not Shake Shack, although that could've made for some great jokes. Japanese media reported that it was a place called Munch's Burger Shack. Its chef-owner Yutaka Yanagisawa was ferried out to Trump, who at that particular time was soaking up Japan at the Kasumigaseki Country Club on the outskirts of town.
Yanagisawa cooked fresh burgers for both Trump and Prime Minister Shinzo Abe, who eventually deadpanned in a tweet: "We're getting down to business right away over hamburgers."
Trump was given a $10 Colby Jack Cheese Burger, well-done, with (as Abe's pic shows) a bottle of Heinz at the ready. He declared it "very good." As you'd imagine, the situation brought Munch's a sudden blast of attention, both in Japan and online:
Long lines started forming right away, and Japanese media say throngs of people eagerly snatched up all of one location's burgers (the menu offers 21 different kinds) by 2:30 p.m. the following day. Foreseeing no quick end to their newfound "trouble," the chain warned customers on Facebook that "congestion was expected."
So far, Trump's having a Midas-touch effect on almost every restaurant he visits in Asia. (Especially Ginza Ukai Tei, the teppanyaki chain whose shares promptly climbed 7 percent after Trump and Abe dined there.) For what it's worth, if, like Trump, you must have American food while traveling in Japan, Munch's burgers do look legit: