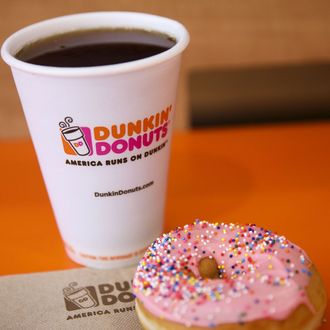 It's pretty doubtful they've ever consumed a jelly Munchkin.
Photo: Patrick T. Fallon/Bloomberg via Getty Images
The tight-lipped multinational company that owns Panera Bread, Krispy Kreme, and like a dozen other chains is reportedly now eyeing Dunkin' Donuts. JAB Holding, the privately held investment arm of four very reclusive German billionaire siblings, has been steadily amassing a coffee-and-pastry empire since gobbling up Peet's Coffee & Tea in 2012. It's not the first time rumors of a deal between the two have surfaced, but analysts feel there's more credibility "this time around." If JAB got ahold of Dunkin', too, that would increase its breakfast army by another 11,300 stores, and give it the nation's second-largest coffee chain (and New York City's largest by leaps and bounds).
Odds are already good that if it's morning and you're hungry and/or under-caffeinated, JAB is going to make some money. It owns Einstein Bros. and Bruegger's, the country's two largest bagel chains. Adding Dunkin' alongside Krispy Kreme would mean controlling the two largest doughnut chains as well. Its stable also includes Keurig, the omnipresent maker of single-serve home and office brewing systems, and the company recently bought Stumptown and Intelligentsia to complement Mighty Tea Leaf and several of Europe's biggest coffee brands — Sweden's Espresso House chain and the multi-billion-dollar Dutch company Jacob Douwe Egberts.
Before their newfound obsession, the Reimann siblings had been on a years-long tear investing in luxury goods, but they've started bailing on leather and stilettos: JAB sold Jimmy Choo in July, coincidentally a month before acquiring Bruegger's, and it unloaded high-end British sportswear company Belstaff on Monday. The explanation given to investors is that this reflects JAB's "strategic decision" to refocus on an actually "fast-moving" consumer-goods sector.