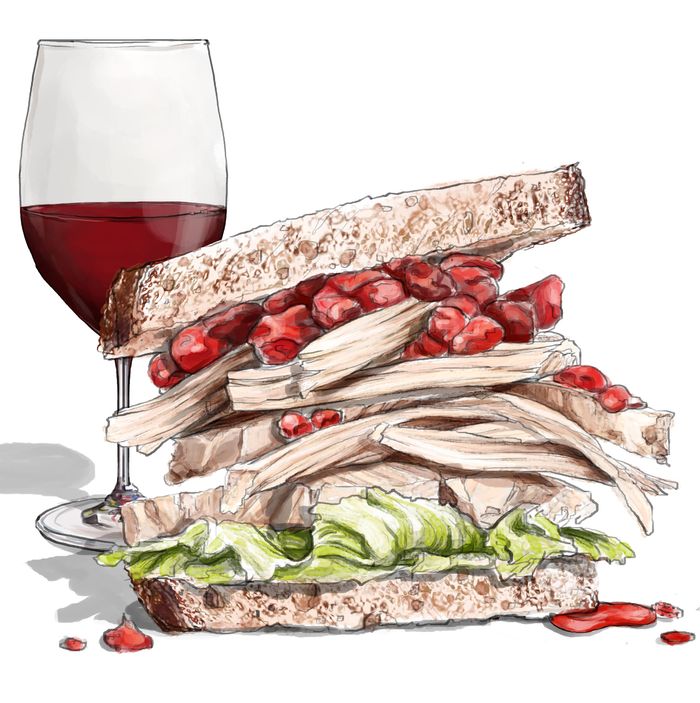 Don't forget the cranberry sauce.
Illustration: The Ellaphant In The Room
If you're like me, you have stuffing on the brain. Thanksgiving is the meal I most look forward to all year, and that's largely because of the leftovers sandwich that comes the next day. In my house, we go classic: toasted white bread, turkey, cranberry sauce, stuffing, a crucial layer of mayonnaise, and a touch of black pepper. It is the best sandwich of the year, and that is why it's crucial to honor it with the right drink. (Also, this will help any lingering Thanksgiving hangover you may have.) For my money, the best option here is Chinon rouge.
Chinon is a region in the Loire Valley that is home to some of the world's best Cabernet Franc. It's related to the more widely known Cabernet Sauvignon, and is relegated to second-fiddle status in blends in places like Bordeaux, but the day after Thanksgiving is perhaps the best time to give this grape its due. And that is why we turn to Chinon, which specializes in great Cabernet Franc.
Here's why it works: The loudest flavor in any leftovers sandwich is cranberry sauce, so you want a wine that has enough acid to match that zip. Chinon also has enough fruit flavor and structure to stand up to the gravy and mayo.
Without going too far into the wine-speak weeds, Cab Franc's tannins (the source of the grippy texture you sometimes feel in your mouth when drinking a wine) are softer than those in Cab Sauvignon, with a more medium body. Tannins and proteins tend to bond when you swallow, so the subtle flavor of your leftover bird won't get washed out. And the hallmark of Cabernet Franc is its pyrazine aroma, which is the technical reason for why the wine can smell like bell pepper. This is a very good thing, since every leftovers sandwich is better with a few grinds of fresh black pepper.
Lastly, the earthy notes of the stuffing help amplify the wine's natural herbaciousness, which means both the sandwich and the wine get kicked into a slightly higher gear when you drink them together — something for which we can all give thanks.
Here are some of my favorite bottles:
1. Domaine des Clos Godeaux "Les Maupas" ($19)
A fresh, easy style that shows well with a slight chill if you're feeling adventurous.
2. Olga Raffault "Les Barnabés" ($20)
More complexity and intensity from an iconic player in the region.
3. Charles Joguet "Clos de la Dioterie" ($47)
For a splurge, this single-terroir selection will give generous pleasure and even hold this tension for years to come if you love it enough to pick up a couple bottles — and want to start thinking about what you'll drink with your leftovers sandwich in 2018, 2019, and possibly beyond.
Vanessa Price is a graduate of the Wine & Spirit Education Trust Level 4 Diploma program. She is a consultant for restaurant wine programs and private-cellar collections, and works as an importer at Maisons Marques & Domaines.