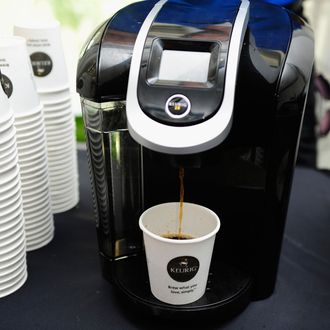 Clearly in hiding at some lib's home.
Photo: Sergi Alexander/Getty Images For SBWFF
Proving once again that the conservative cause's most insidious enemies all brew coffee, fans of Sean Hannity are literally destroying their Keurig machines to protest the company's decision to drop its ads from the Fox News host's show. Keurig joined several other companies, like Realtor.com and ELOQUII, which pulled advertising this weekend following Hannity's recent Roy Moore coverage. In a reply to a tweet by Media Matters president Angelo Carusone asking Keurig to "reconsider" associating itself with Hannity, the coffee company announced on Friday it'd also given Fox News instructions to yank ads. This didn't sit well with many of the show's viewers.
Only their boycott is going further than just trashing the rest of their Guy Fieri Flavortown K-Cup packs: Fans are posting videos of themselves attacking their $100-plus Keurig machines with various heavy implements — sledgehammers, regular hammers, golf clubs, and the like. Someone's almost certainly blasted one with a shotgun by now, though that video has yet to surface.
The quality of Keurig coffee might not be top-notch, but one thing this #KeurigSmashChallenge has revealed is that the machines are surprisingly durable. What's less than durable right now, however, is the company's financial state. And in case pulling Hannity ads wasn't enough proof that Keurig coffee is "close to pig swill," a damning dive into its political donations has also begun.
When conservatives boycotted Starbucks over its decision, on the heels of President Trump's travel ban, to hire 10,000 refugees, they did a not-negligible amount of damage. Keurig's sales fell $60 million last year, so the pod-maker must really feel like it needs to take a stand here. Of course, it's also possible the protests won't have staying power. Everybody needs their morning coffee, and having no push-button option definitely complicates the a.m. routine.