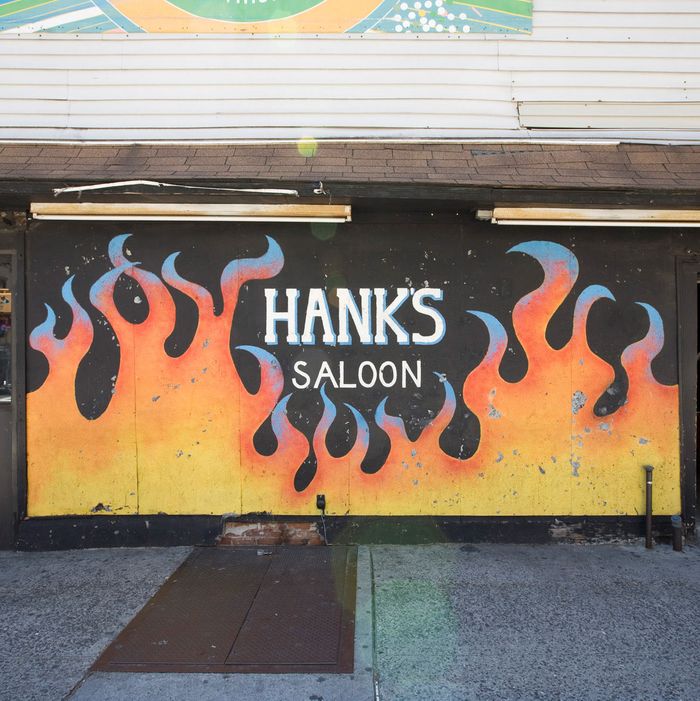 The flame decal is on its way out, too.
The writing has been on the wall for years, so it's not entirely surprising that Boerum Hill dive Hank's Saloon will, according to owner Julie Ipcar, close "at the end of next year." Ipcar shared the news on the bar's Facebook page, explaining that the developer who bought the building several years ago is finally ready to proceed with construction. A Brooklyn native, Ipcar calls Hank's "one of the last NYC bars of this kind" and talks about its former life as Doray Tavern, which was once a hangout for Native-America ironworkers in the 1920s and '30s. Drinks writer Robert Simonson once wrote about the bar for Grub Street, grouping it with other classics like Lucy's and the Subway Inn. It's one less dive in a city's that ever shorter on them, but Ipcar has asked anyone with leads on spaces and investors to let her know. So, who knows, it could be resurrected elsewhere.
Here's a portion of the message that Ipcar posted on Facebook:
As someone who grew up around the corner on State Street many years ago, and who used to drink at the Doray Tavern herself, it deeply saddens me that one of the last NYC bars of this kind will no longer exist. These places are extremely special to New York and add genuine heart and soul to the community. The Doray Tavern in particular has earned a place in history for it's importance within the Mohawk Indian community, once offering a hang-out for the Native American ironworkers who came during the '20s and '30s to work on our city's bridges and skyscrapers.

The Hank's Saloon of today is still a place to gather, to catch up, to always know that there is someone out there to talk about the old days or to wish you a happy birthday when you might not have anyone else around to do it. It is also a place where I have personally watched the music scene grow and thrive in Brooklyn. I've been humbled by some of the many performances I have seen here throughout the years, featuring some truly outstanding musicians.

[…]

Thank you everyone for all your support over the years. Looking forward to a banging 2018 at Hank's!