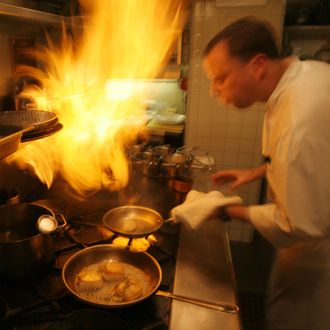 Stress was merely presented "as the curse of the culinary genius" until now.
Photo: Lawrence Worcester/Lonely Planet Images/Getty Images
Even Guy's Grocery Games viewers get that being a professional chef is stressful, but this new piece by Jay Rayner serves as a serious reminder about the toll the industry takes on mental health. Several of England's top chefs tell the Guardian's restaurant critic that the profession has nearly destroyed them; he cites an April survey that found that 78 percent of London chefs blame kitchen accidents (or "near misses") on fatigue, over half use painkillers regularly, almost as many suffer from depression, and a quarter admit that they drink to get through shifts. "The restaurant business model is dysfunctional," Rayner concludes, writing that there might be reason for even more worry: "To make the economics stack up, cooks are required to work ludicrous hours which, due to chef shortages and rent rises, are only getting longer."
Chefs described working in "abusive environments, run by bullies re-enacting the violent experiences they had been through when they were juniors" — at least one spoke of "pain administered via burning hot tongs." Kitchens' reliance on "fear rather than encouragement" has birthed "an incredibly harsh environment," one restaurateur tells Rayner. (And this hasn't even scratched the surface of what it's like if you're female.)
Many big-name chefs (Sean Brock, Daniel Patterson, Mike Solomonov) have opened up in recent years about overcoming inner demons of substance abuse or depression. But alcoholism, drug addiction, and nervous breakdowns shouldn't be seen as "badges of honor" worn by "the geniuses whose tortured souls are rewarded with Michelin stars," one restaurateur from Leeds cautioned in her Facebook post after reading. Even Rayner has since noted the "truly startling stories" that keep emerging in the article's comments section — from people saying "all were miserable" in the kitchens they worked in, to the claim that they've "never met a chef [who] didn't have an addiction." The hundreds of Twitter replies have been mostly gloomy as well:
Rayner meant his article as a disquisition, not a corrective, but he's also quick to point to places where the model looks better. Like in Scandinavia, home to Magnus Nilsson's critically acclaimed Fäviken, whose chefs work eight-hour days and get five weeks of vacation per year.