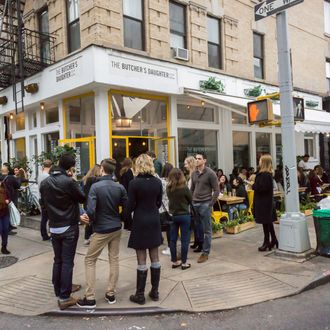 Google Search will now give you a heads-up.
Photo: Richard B. Levine/Corbis via Getty Images
Google is adding a new feature that provides estimated wait times for restaurants in search results. Once it rolls out in their area, Googlers will be able to see not just average hourly crowd sizes under a restaurant's listing, but also a guess for how long it'll take to get a seat. Google predicts it will be able to offer these wait times for almost a million restaurants worldwide when the update is completed. Technically, it's an add-on to a preexisting feature — the Popular Times tool that shows the busiest hours at businesses — but this tweak lets users plan better for dinner, since an excessive table wait definitely disrupts the day more than standing in an unusually long Uniqlo line.
Google says the feature is hitting Search first, then will arrive on Maps not long after that. To access it, you look up the restaurant on Google, then go to the Popular Times tab that populates on the right-hand side of the search page. It will give a live snapshot of how busy the place is, and translate that into a table wait.
You can also click an hour other than the current one to see Google's guess for that time of day, if you're trying to plan ahead. The predictions are cobbled together using Google's cache of "anonymized historical data," the industry's trick for calculating popular times at businesses.
Wait times start going live today on desktop and mobile. When they're ready to launch on Google Maps and Android, Google also promises to expand the function to include grocery-store listings.