On his vegetable farm in Wharton, Texas, just over 60 miles southwest of Houston, Garrett Gundermann grows more than 90 different types of crops on 500 acres of land. In August, nearly all of that land was wiped out by Hurricane Harvey and the subsequent flooding, eliminating Gundermann's entire harvest, destroying supplies, ripping the topsoil off his land, and effectively wiping out the only source of income for him and his young family. Here, Gundermann speaks on the challenges ahead, the problems that America's vegetable farmers face, and what it will take to get back on his feet.
We got 22-plus inches of rain from Hurricane Harvey, and then also we got what happened the day after. On the first sunny, pretty day, the Colorado River came and flooded us at an unprecedented level. The only thing that survived was a ten-acre field of sweet potatoes, and about 75 percent of those are bad wherever we dig 'em up, so it's almost a total loss.
Everything was just dead. I mean, there was six feet of water in some fields. Nothing can withstand that. Even if anything had survived, it would have been considered contaminated. We probably lost $400,000, and we can't get any federal crop insurance because we raise vegetables. If I raised grain, corn, or cotton, then we could get insurance; we could get all kinds of government subsidies, direct payments, all that stuff. But we raise vegetables so we figure we won't get anything. It's all out of our pocket, a complete loss. I have never experienced this before.
We farm year-round, and we always have something that we can harvest. Nothing in the ground survived, so I'm starting all over from scratch. Plowed everything under, dug everything up, and worked the ground to get ready to plant another crop. It's not cheap to plant anything. There's fertilizer, labor to repair all the equipment, diesel. There's a lot of manual labor on the vegetables, too. We figure that it costs a minimum of $1,000 an acre to plant one crop, up to $3,000 an acre.
We realistically won't have any kind of income until, probably, January. I had to let go of 15 of my employees, which really hurt them and me.
We had a lot of people ask us how to help, so we set up a YouCaring site. I was able to buy some seed money, and get my first rotation of seeds planted. Thank God for that because I wouldn't know what we'd do, really, if that hadn't happened. I can't get any more money. I'm pretty much borrowed out. Earlier in the year — January or February — we had a real bad freeze, and we lost about 75 percent of our crop. We begged the banks to get a little operating money and forgive our loans for a little while. We were just trying to get our heads above water from that ordeal, and now this. It's been one thing after another. It just sucks.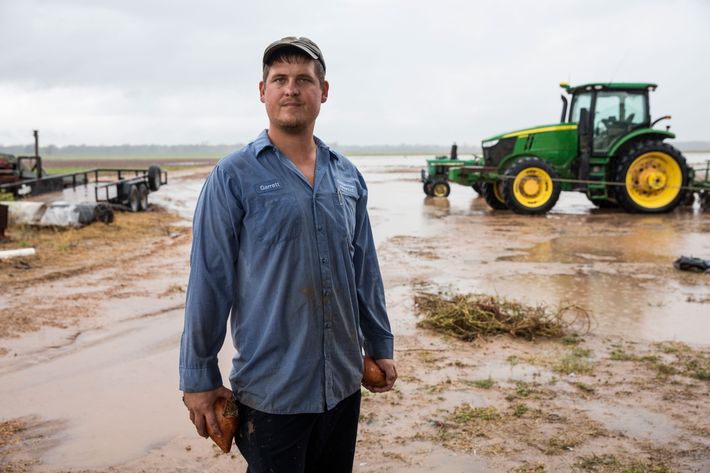 I have my wife, a four-and-a-half-year-old daughter, and a year-and-a-half-old son. It's not like my wife works somewhere else and can supplement my income. It's nothing like that. I might have to sell some of my farms just to be able to provide for my family, really. I pray that it doesn't come to that because land is so hard to come by around here. I know if I sell, I'll never get it back.
I started farming on my own when I was 20, and bought 50 acres from my parents. I bought another 50 a couple of years later, and then I was able to buy 300 acres four or five years ago. I did it my whole life, and started doing it on my own after my mom got sick and couldn't run the farm anymore, so I took over. I just love doing what I do. There's nothing like being out here and working the ground up, being able to follow something from a tiny seed that's the size of a fleck to a big, beautiful head of cabbage or something.
I guess a lot of people would give up, sell the land, and walk away. That's just not in my blood. If nobody's going to farm, how are we going to feed the world? I read the other day that only around one percent of the population farms, and I would say that probably 1/100th of that percentage farms vegetables. Everybody that I know farms cotton or corn or some other grain crop. Everybody farms that way because it's so much easier. It just doesn't require a lot of work, like physical labor. With vegetables, it's all hands on deck. There's nothing mechanized to help out with what we do — it's all hand-harvested.
Farmers are 50, 60 years old, and most of their children don't want to step up and do it, so when they retire or die, there's nobody there to replace them — that's especially true for vegetable farmers. I kind of see a crisis coming in the near future just because of the sheer number of people who don't farm anymore.
After the storm I had a lot of people ask if they could come out to the farm to help clean up, this or that. I tell them I'd love that, but there's nothing left to clean. We really just need cash flow. My bills haven't stopped. My mortgage. My land payments. My everything. The only thing that's stopped is my income, so that's where we're hurting. We're in a real hard spot.