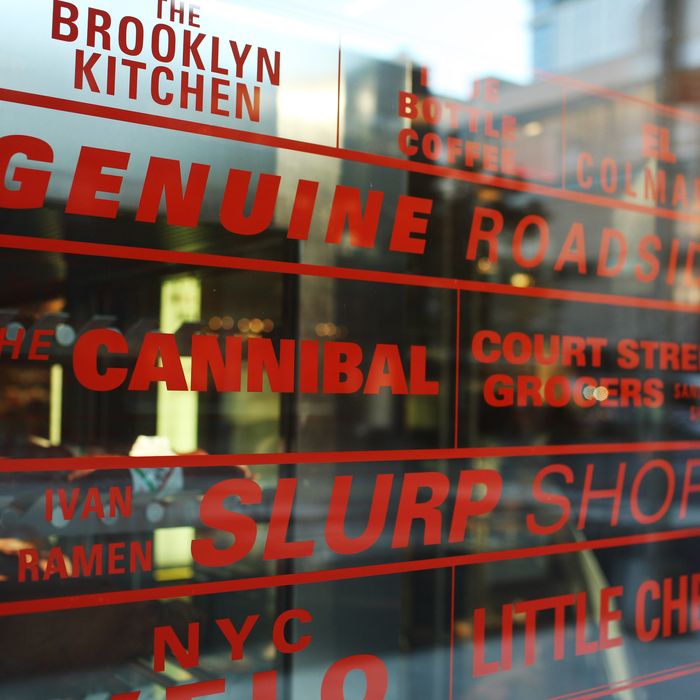 A list of the original vendors at Gotham Market West.
During this decade, food halls have sprouted up like weeds in New York and other major cities around the country. Since 2010, New Yorkers have seen them fan out from midtown with the opening of, just to name a few, Gotham West Market and at the Ashland, Hudson Eats, Canal Street Market, and the Pennsy. Food halls appeared to be the next evolution of the trendy food-truck boom of the 2000s, the places where New York's trendiest upstart food businesses showed up. Food halls are marketed as a win-win-win situation: ostensibly cheaper food for consumers, less overhead and an easier point of entry for business owners, and a solution to the decaying retail market for property owners. But a new report from The New Yorker goes deep into why these markets aren't such good business for your neighborhood pickler.
One of the most well-known food halls in New York is Gotham West Market, which opened in 2013. It featured an attention-grabbing lineup of vendors, including Court Street Grocers, Little Chef by Saltie's Caroline Fidanza, and Brooklyn Kitchen, all of which have since left. Speaking with The New Yorker, Fidanza said the deal had looked good on paper. But the reality was that she faced unexpected charges and was asked to stay open at night, despite doing most of her business at lunch. She was also asked not to sell her signature sandwiches, so instead she served a menu of soups and salads that never caught on. The stand closed four months in. In the story, Fidanza calls the experience "absolutely soul-crushing" and "the saddest four months of my life." Court Street Grocers left, too, because of weak sales, and co-owner Eric Finkelstein says he felt his business was looked at "as an amenity." (Both he and Fidanza also felt that the design of the space was generic.)
Outside of New York, complaints are similar. In San Francisco, chocolate company Nuubia's Alexandra Saunders leased a space in the Twitter building's food hall. She says her average sale there was $6 a day, and that she lost hundreds of thousands of dollars. Butchers and cheesemongers struggle, and chef Akhtar Nawab says you're more likely to find success with something that is inherently un-cheffy. He points to the Chelsea Market's Doughnuttery and its doughnut holes as an example, saying the food needs to be simple and immediately appealing so that people ask about it.
Chris Young, who opened a food hall named — wait for it — the Hall in an abandoned billiards space in San Francisco's Tenderloin area, says running a food hall also isn't easy. Vendors are struggling, and Young found the daily management unsustainable. He closed the Hall and replaced it with a bar featuring whitewashed walls and cans of paint for customers. He tells The New Yorker that he sees this as the future of retail, as "people just want something Instagram-worthy." He's not the only one: The (not actually a museum) Museum of Ice Cream's Maryellis Bunn tells New York that she sees "retail as a dead industry," and wants to populate empty storefronts with Instagram bait. Maybe we could just go back to food trucks?