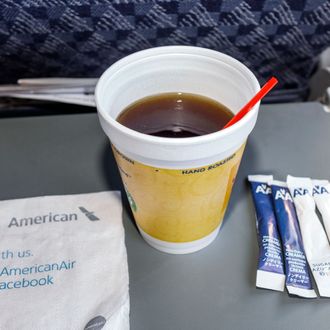 This may have to do if you're traveling cross-country.
Photo: Jeff Greenberg/UIG via Getty Images
American Airlines has stopped serving food to passengers on Los Angeles flights after listeria turned up in its caterer's kitchen. "Out of an abundance of caution," and probably to ensure that passengers' worst food complaints involve the blandness of Biscoff cookies, the company says it's suspended catering from its third-party supplier at LAX, a company called Gate Gourmet. It learned of a recent listeria outbreak at the caterer's airport prep facility, and yesterday announced that it's "made the decision to halt operations out of there starting today."
There are no reports of illness as of yet, and about half a dozen other airlines at LAX also use Gate Gourmet. One of those — interesting twist — is Delta, which tells CNBC that its passengers can look forward to still eating the caterer's onboard meals, as it's received "no indication of unsafe conditions there."
Traces of the bacteria were reportedly discovered during a safety audit at Gate Gourmet's facilities. The company tells Business Insider that the contamination affected "non-food contact areas, primarily floor drains," and those spots were cleaned "aggressively." It's also one of only three companies that cater American Airlines flights, so Gate Gourmet is prepping meals every day in airport kitchens nationwide, but the airline says nothing "suggests that listeria has been detected at any other facility."
Still, it's a blow to passengers flying cross-country, since flights from L.A. or San Francisco to New York (or vice versa) are the only ones on American that qualify for free meals. American is reportedly "scrambl[ing] to find alternatives," but travelers may need a creative plan to stave off in-flight hunger pangs — like loading their coffee up with extra, extra sugar and cream — because the airline warns that it could take ten days to fix the problem. Among the "several solutions" being tossed around are just using another caterer temporarily, passing snacks out at the gate, and even resorting to vouchers that passengers can use on future, presumably better-catered flights.