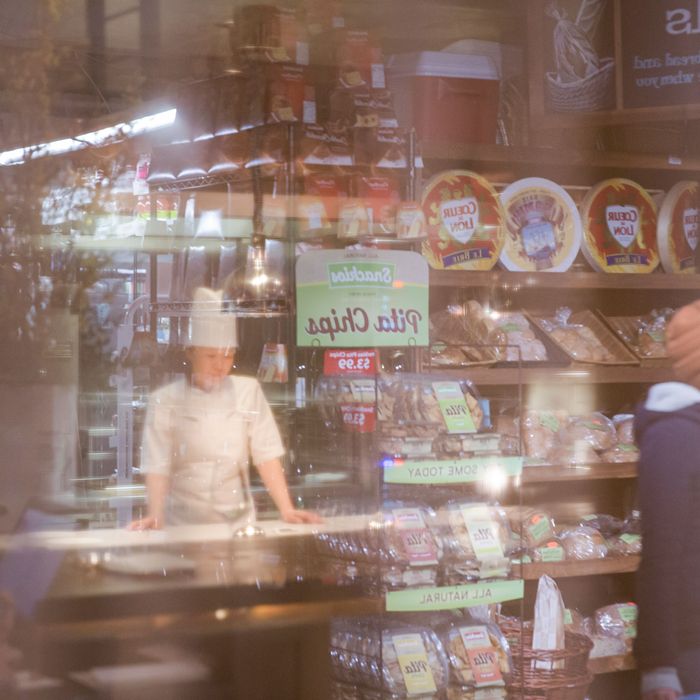 A cook, and a shopper, reflected in the windows of Chef's Table at Brooklyn Fare.
Photo: Mark Abramson for New York Magazine
There are many reasons for a world-weary critic to put off visiting the new Manhattan version of the seminal Brooklyn tasting room, Chef's Table at Brooklyn Fare, for as long as possible. There's the extravagant price ("$390 includes service, but not drinks," the friendly voice on the end of telephone said), and the usual jockeying for a reservation. There is the fact that, like the original (now-shuttered) location, this restaurant is attached to a Brooklyn Fare grocery store, this time on West 37th Street in Manhattan, a borough that is already lousy with overpriced luxury meals; hushed, chef-centric tasting counters; and solemn, big-bucks omakase opportunities. There is also chef César Ramirez's formidable reputation for imperious behavior (photos were strictly forbidden in the old room), and the antiquated jackets-required dress code, which meant that when I finally did arrive at the restaurant's discreet entrance, next to a display of the store's pastas and extra-virgin olive oil, I was presented with a dusty, black loaner coat that happened to be a couple sizes too small.
But many of these worries and frustrations began to dissipate as soon as I took my place at the 18-seat counter, which is far larger and more commodious than the one in Brooklyn, and surrounds the much larger, busier kitchen, like seats around a stage. The show began with a tart of Japanese mackerel, crisp kelp, and shiso blooms; a purée of Japanese eggplant, cucumber, and dashi gelée spooned with farmed Kaluga caviar from Shanghai; and little rounds of toasted brioche layered with ribbons of sea urchin from Hokkaido, topped with a thin wafer of heart-shaped black truffle. These polished little bites were followed by a carefully orchestrated symphony of fish and shellfish that began with subtle, perfectly soft pieces of perch and baby red snapper (dressed with different formulations of daikon, Brussels-sprout leaves and green, peppery kinome leaf), and reached its impressive crescendo with a serving of rosy, barely cooked lobster; and dishes of seared bay scallops, finished by the chef himself, with drifts of white truffles.
Other highlights from this impressive procession of dishes included a segment of Pacific black cod set in a bubbling, coral-colored pool of bouillabaisse that tasted like it had been flown in from one of the grander fish houses of Marseille. The steak portion of my meal was insanely tender A5-graded beef from the millionaire cattle farms of Japan's Miyazaki Prefecture. Dainty little pieces of quail originated in southwestern France, according to my loquacious server, and when she politely instructed me to eat the sticky, sour, sweet morsels of bird — flavored with dijonnaise and pomegranate reduction — with my fingers, I gobbled them without even noticing the awkward tightness in the sleeves of my borrowed coat.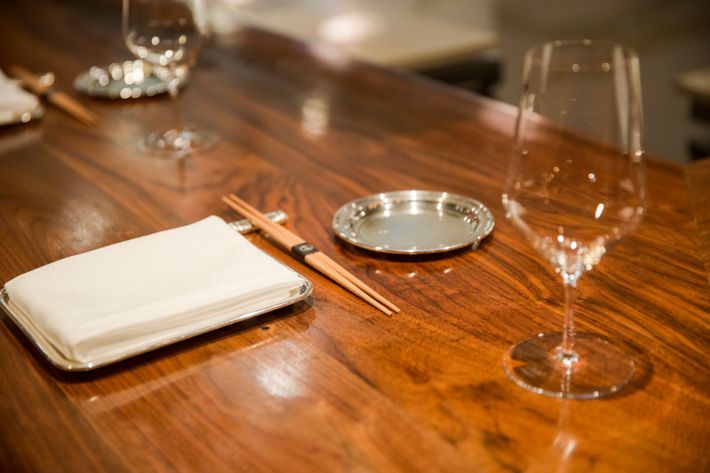 Ramirez has always had a fondness for these kinds of Michelin-approved luxury signifiers, but the food here seemed to have more depth and polish to it than back in Brooklyn, and the caviar and truffles are integrated into his particular Japanese-influenced, Continental brand of cooking in a more seamless way than before. The ingredients weren't the only things that had arrived in New York from various far-flung locations around the world: This decidedly non-locavore version of Chef's Table appears to be deliberately designed as an international destination — like many of New York's other big-money, multi-starred restaurants these days — and, on the night I dined there, the room was filled with diners who looked to be visiting from, say, Tokyo, and maybe Greenwich, Connecticut.
Just as it was at the old location, the kitchen is the central stage here, and for a grumbling critic who spends far too many evenings sampling upscale comfort food in cramped, noisy little dining rooms, it's part of the fun to watch a top-flight chef and his attentive staff sauté, grill, and serve one highly technical course after another with balletlike grace and efficiency. Is this elaborate show worth the reservations hassle, the extreme prices (when my bill arrived, it was suspiciously small, so we paid for drinks and dutifully left a very large tip), and the possible indignity of arriving at the back of some random Hell's Kitchen grocery store only to be presented with an ill-fitting loaner jacket? That's the weighty question I pondered during dessert, which was an efficient, classically Japanese combination of tart, palate-cleansing lightness (yuzu sorbet), inventiveness (soba-cha ice cream sprinkled with toasted buckwheat and a warm, soy-spiked caramel sauce), and style (a decorative, gourmet custard flan, touched with tonka beans). As a vocal advocate of less-pretentious tasting rooms and simpler, less-pricey omakases, it pains me to admit that, if you avoid the inevitable barrage of trophy wines and limit yourself to one visit, say, every year or so, the answer to the question may very well be "yes."