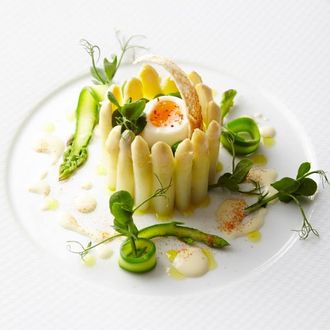 Waterside Inn's white-asparagus dish, whose appearance you better commit to memory.
Photo: The Waterside Inn
The Waterside Inn, a British restaurant that's continuously held three Michelin stars since 1985 — 12 years before Ferran Adrià's El Bulli got three, and 13 before Eleven Madison Park even opened — has decided to ban photography inside the dining room altogether. Michel Roux, who co-founded the restaurant with his brother Albert in 1972, tells the Daily Mail that they've outlawed the practice on a sign that lays down the rules.
"I'm really getting so upset about people taking pictures," Roux says. "We put up a card at the door — 'No photos, please.'" The 76-year-old chef who also started Le Gavroche, Britain's first three-Michelin-star restaurant, tells the paper that he can't comprehend why diners do this: "What are they doing? Maybe once during the meal you want to take a little photo of something because it's unusual. But what about the flavors?" he asks. "A picture on a phone cannot possibly capture the flavors."
Roux is of course following a path already tread in fine dining. French chefs launched a campaign in 2014 to ban photo-taking, on grounds that it was a threat to France's storied gastronomic traditions. Top New York restaurants have also tried barring photography outright, like Chef's Table at Brooklyn Fare and Momofuku Ko, where David Chang once justified the rule by ranting: "It's just food. Eat it." But most restaurateurs' resolve has since crumbled, as they've realized the free advertising being sacrificed on the altar of principle.
In fact, Ko now regularly Instagrams its own food, like a striped bass–eggplant–tomato dashi dish it posted three days ago. Even funnier is this September 6 post that's quite literally a #regram of food pics a guest took in 2012, when Ko's ban was firmly in place:
Roux's son Michel Jr., who's now chef at Le Gavroche, just published a new cookbook without any pictures. "It's a statement, isn't it?" he told the U.K. Times last month. "Does the Bible have pictures?"