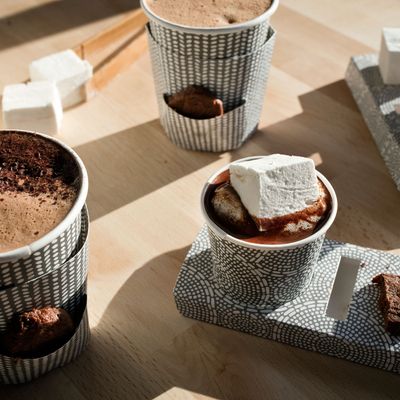 How will you ever choose?
Photo: Melissa Hom
If you have a serious sweet tooth, you should know Dandelion: It's a San Francisco–based chocolate producer that's quickly making a name for itself. And now, curious New Yorkers can give it a shot. Dandelion will pop up in Chelsea, starting this Saturday, November 25, through December 3, from 10 a.m. to 11 p.m. daily.
You'll find canelés, toffee, chocolate-chip cookies, s'mores, chocolate cake with Nutella buttercream, and single-origin brownie flights — but the most exciting offering is the homemade hot chocolate. There are several options available, all priced around $5: a thick, rich version made with the Ecuadorian Camino Verde; a house hot chocolate, also made with Camino Verde, that's lighter and steamed to order; and a "Mission" hot chocolate made with Madagascar chocolate and a series of spices (cayenne, allspice, and cinnamon) that give it a slight kick. Plus, a nutty gingerbread hot chocolate and a frozen hot chocolate. (Marshmallows and shortbread cookies come on the side.)
Executive pastry chef Lisa Vega says the secret of Dandelion's success is that the hot chocolate is not too sweet. "We make a ganache first, with some milk and some of the chocolate, and then we dilute that ganache," she explains. "And we only add a little bit of brown sugar to the bases, so the chocolate really shines through."
Aside from Dandelion's factory in Tokyo, this is the first time that Dandelion has served hot chocolate outside of San Francisco. Vega says that after the company opens another factory in California this year, hopefully New York will be next. So show them there's demand, why don't you?
Dandelion Pop-up, 180 Ninth Ave., at 21st Street