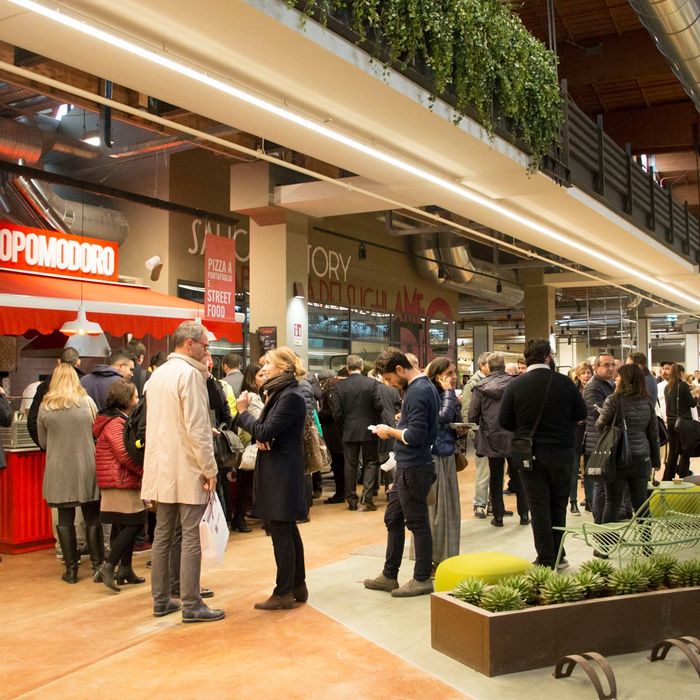 Journalists clearly trying to figure out where the best free food is.
Photo: Eataly World
Tomorrow, the doors to Eataly's long-awaited theme park in Bologna, Italy, officially open for business. Called Eataly World, or "FICO" if you're a local, it's a million-plus-square-foot "experience" that highlights all the wondrous things about Italian cuisine. Founder Oscar Farinetti tells the AP he envisions it being the food equivalent of Milan Fashion Week. Fortuitously, while FICO stands for Fabbrica Italiana Contadina (a.k.a. "Italian Peasant Factory"), it also means cool if you're using Italian slang.
With so much on the line — roughly three years and $100 million, plus the entire Italian government rooting for it — Eataly decided to give journalists a sneak peek yesterday to help sell the park. Here's what the first visitors can anticipate tomorrow, based on that early preview:
1. Entry is "free." But hoo-boy, are there lots of ways to spend money. Like €15 for a FICO Grand Tour ticket, or €10 to get on all six Eataly World "rides." You can also pay €15 to take Eataly World's onsite Zumba class, €20 for that truffle hunt, €60 for a class that teaches you how to "recognize fruit trees," and €65 if you'd like to "make your first gelato."
2. You can almost assuredly watch your favorite food "being born." The park is packed with 40 different food factories — from a space with live fish and an entire locker of prosciutto to a facility where egg-laying hens are "free to scratch about and eat the best selection of organic feed." Visitors can enroll in hands-on classes like those listed above, but they can also passively observe milk-culturing (the thrill!) and beef getting butchered.
3. That includes meeting your meat. Eataly World says its 20,000 square meters of "Italian biodiversity" comprise the largest agri-food farm in the world. There are more than 2,000 cultivars of produce, and stables that house hundreds of cows, geese, goats, pigs, sheep, rabbits, and donkeys. All these things are raised or grown on the premises for eventual sale or use in products.
4. Or you can just go pig out. There are also 45 different restaurants in the park. That list includes outposts of three Michelin-starred restaurants, and a pop-up space called Le Soste where Enrico Bartolini and Massimo Bottura will curate the chef lineup. But it also seems Eataly is including about 26 street-food-style vendors or kiosks that are more grab-and-go — like Jubatti's Arrosticini, a purveyor of the famed Abruzzese lamb skewers — in this count.
5. There is definitely a sports complex. For those who aren't feeling Eataly Zumba, the courts look equipped to handled a rousing beach tennis tournament.
6. It's gimmick-heavy. Without even getting into the six giostre, or actual rides, the park's full of triggers for cynics. For instance, this "interactive chocolate experience" set up by chocolatier Venchi. It features a "machine learning" booth so guests can understand the effect Venchi's pralines have on their emotional state. Guests have their faces scanned while indulging, then go into a room where they appear as avatars "animated by archetypical human feelings, almost floating in an ethereal space."