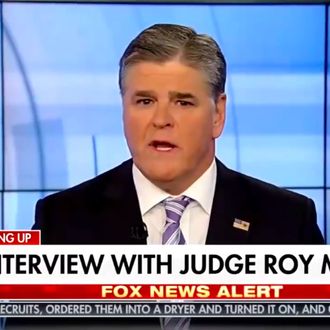 Not so hot with food brands right now.
Conagra, one of the world's largest food brands, has joined the Hannity show's advertiser exodus. The Fox News personality's cordial Roy Moore interview didn't sit well with many people, causing several companies to quit running ads in recent days. Keurig's exit turned into a mess for the company, although arguably less than it did for people who bashed their machines to smithereens in protest.
On the corporate-wide level, Conagra — an $8 billion food conglomerate — merely notes it has "removed Hannity from our advertising plans" for its brands moving forward. But Hebrew National, which is owned by Conagra, gave the situation more context on Twitter yesterday afternoon:
Keurig's ad pull instigated the so-called #KeurigSmashChallenge, and Keurig's CEO later criticized their move, saying it was "unacceptable" for them to "take sides." No doubt aware of the violent reaction Keurig is seeing, Conagra has tried doing some line-straddling of its own: "We adjusted our media spend several months ago due to the needs of our business," a rep explained to Business Insider, insisting their decision "was not made currently and has nothing to do with this controversy."
Besides Hebrew National, Conagra owns dozens of food brands, including Marie Callender's, Orville Redenbacher's, Ro-Tel, Reddi-wip, Slim Jim, Swiss Miss, Chef Boyardee, Pam cooking spray, Peter Pan peanut butter, Wolf brand chili, and Bertolli pasta. Hannity claims none of his lost advertisers are "big," but also seems somewhat mystified by the flap. During yesterday's radio show, he said he personally owns five Keurigs, and didn't offer to annihilate a single one. He actually instructed listeners to "please stop breaking your Keurig machines," and has promised to buy 500 "nice" replacements for fans who destroyed their household's access to caffeine out of solidarity.