Chef Eli Kulp knows his restaurant's stracciatella needs work: The persimmons are being overpowered by too much ginger. The brussels sprouts should be crunchier, which means roasting them instead of sautéing. They're simple tweaks, and two years ago, Kulp would have gone into the kitchen to do this work himself. That's no longer the case. Instead, he must patiently communicate and teach these lessons to his staff while he sits in a motorized wheelchair.
Five years ago, Kulp left a a high-profile job in New York as the chef de cuisine at Torrisi Italian Specialties, then one of the most talked-about restaurants in Manhattan. Kulp moved to Philadelphia and worked as the executive chef at Ellen Yin's Fork before launching a spin-off, High Street on Market. His career skyrocketed; the Philadelphia Inquirer named him Chef of the Year, High Street landed on Bon Appétit's list of the country's best new restaurants, and Yin promoted Kulp to co-owner.
In March 2015, they decided to build on their success and signed a lease to open High Street on Hudson in New York. For Kulp, returning to Manhattan's restaurant scene was everything; his family had stayed in New York and he commuted daily to see them. In May of that same year, Amtrak train 118 derailed just outside Philadelphia, traveling at 102 miles per hour — over double the speed limit. Eight passengers died; 200 were injured. Kulp was on that train. He suffered an incomplete spinal injury. Since then, he has been confined to a wheelchair, unable to use his legs, and has limited mobility in his hands and arms. He's mostly paralyzed.
Kulp has spent the past two and a half years figuring out how to be a new kind of chef — one who can't actually cook. "I still know what I want," he says. "That hasn't changed. I see the dish in my head. It just takes a lot longer to get there." He's pushed forward, despite the most unimaginable limitations, and continued to play an active, creative, and essential role in his company. "I think I just had to reframe my purpose," he says.
In the 18 months following the accident, Kulp wasn't sure he wanted to return to work at all. "That first year was miserable: not knowing what I wanted to be doing, or where I could be effective," he explains. Depressed, he came down hard on himself, blaming his own ambition for his injury. "After eating in a hospital for months, I almost had a certain level of resentment toward food. It's human nature to want to blame something, and I blamed my career. Why the hell was I moving between those two cities and on that train?"
Kulp credits Yin, his "dynamo" of a business partner, for managing the New York opening of High Street on Hudson while he focused exclusively on his recovery. But Yin remembers that time differently. "When Eli was at Rusk Rehabilitation, we had drawings hanging in his room and we would meet at least weekly to discuss the progress of the space," she says. "He couldn't wait to be in the space, even though it was under construction. We had a kitchen team meeting to kick everything off, and Eli was there."
"It's not like I was an accountant," Kulp says. "For a lot of professions, while this would impact someone's life, it might not completely eliminate certain aspects of their work." Subtracting the physical act of cooking has heightened other senses and skills. Now Kulp balances business strategy with culinary direction, and spends his time coaching and mentoring staff at busy restaurants in two cities. It's given him new perspective. He sits and listens and tastes and interprets, wheeling around the restaurant and, as he puts it, "moving in whatever direction the company needs at the time." Yin notes this is partly why she hired Kulp in the first place. "He's always been highly observant and a part of the strategic decision-making," she says. In the wake of the accident, that behavior has only intensified. "To succeed in New York, there are so many challenges, and Eli's become more involved in solving them on a day-to-day basis than he would have been if he was just operating as a chef."
"He's one of very, very few people that could really do this, because of his ability to communicate the way he cooks," adds chef Rich Torrisi, who had originally hired Kulp as the chef de cuisine at Torrisi Italian Specialities. "I don't know a lot of people that could go through this, and — forget about surviving — legitimately keep going at this high of a level." Torrisi might've been in charge, but when they worked side-by-side, he looked to Kulp for leadership guidance. "He's a huge dude. Eli could feel that his presence in a room was so imposing and he would play off that fact. He was soft-spoken but firm. A great teacher. I learned from him how to get my point across better."
Kulp knows his presence is now imposing in a different way. "The other day, a customer came up to me and said, 'Hey, are you the chef? Can you walk?'" he recalls. "If I could walk, why would I be in a wheelchair?" Nevertheless, Kulp now thinks about how to not be so imposing to High Street's cooks — how to guide without intimidating. "If they need my opinion, I give it, but I also feel like I'm better at allowing them to be their own people," he says. "Before, it was much more my vision."
"Chefs are such egomaniacs by nature, trying to make people think objectively that our food is just the best thing ever," says Zahav's Michael Solomonov, Kulp's friend and peer in Philadelphia. "Eli could back down, or he could be the person that he is, and lead by example. He's completely inspirational."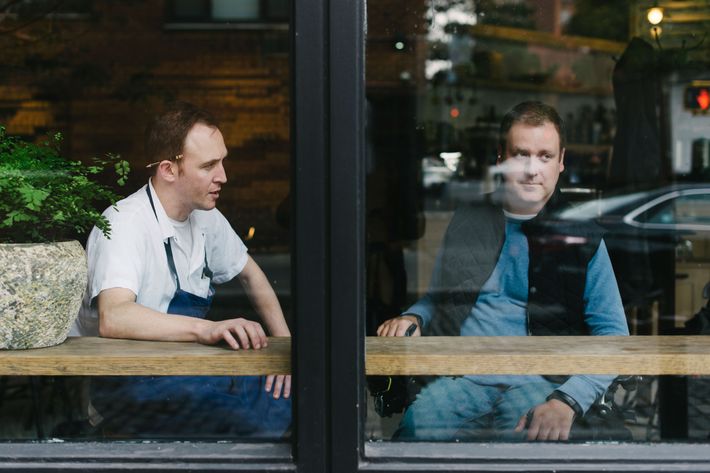 Kulp recently hired a new executive chef for High Street on Hudson, Sean McPaul, who says he's grateful for Kulp's guidance. "I've never had somebody who's as far along as Eli is in his career, pushing me and providing me with a little bit of this, a little bit of that," McPaul says. Together, they're revamping the dinner menu, a process that has led to another surprise for Kulp: his palate has noticeably changed. "Before, I felt like everything had to be spicy, acidic, sweet, sour, bitter — highly flavorful," he says. "As a chef, you're constantly in the restaurant, and if you're not in the restaurant on your day off, you're at another restaurant. You want to be amazed every time you eat something." Now chicken-noodle soup and "simply grilled fish" are on High Street's menu. "It's opened me to accept eating more simply. I used to make fun of that person."
The accident and years-long recovery also changed Kulp's family, including his relationship with his 5-year-old son, Dylan. "I needed to understand that I was probably focused on my job to a fault, and that I lost sight of what was truly important," Kulp says. "This has given me the opportunity to be a father that I could have never been before." Kulp also recently separated from his wife, Marisa, a development he indicates is more reflective of the strain of professional-chef-dom than of his recovery: "A lot of times, chefs find themselves pulled between the two loves of their life: the restaurant and their personal relationship." (Kulp adds that, out of respect for Marisa, he doesn't want to talk further about his personal life.)
"It's a testament to Eli that he continues to push forward," Yin says. "You feel like you have a rock next to you, even though he's probably looking for me to be that."
Kulp now lives full-time in Philadelphia, but travels to New York each week — by car — to work on the menu for his restaurant here. Last year, Amtrak agreed to pay $265 million for all claims related to the derailment, and this summer, money came through for Kulp. He was finally able to put the settlement behind him. "I think the theory is, shit happens and you've got to move forward, you know?" he says. "I still believe in what we do. Everybody stepped up when it happened, and now that will continue. The world doesn't stop for me."